Your Uptime.com free trial lasts for 14 days, and each tier is entitled to certain features and account allotments. Check our pricing page for specific details.
All pricing tiers include API and Transaction Checks access, and all tiers can select specific locations to check if a website is down. The only exception to locations are which ones your tier can use as probes. Basic tiers can only access US locales, while Superior can use US and EU territories can be used to check website status. For global website availability testing, use Business or Enterprise tier.
Monitor Your Website Status
This section will help you create the foundations for your monitoring.
Begin With Domain Health
Domain Health Checks run 11 separate checks on your domain, including web server, email, and malware/blacklist type checks. In a single click, you can configure multiple check types

Use HTTPS and Advanced Checks
HTTPS Checks monitor a single URL for OK status. Our optional parameters include: basic Auth, POST and expect strings, and designate specific HTTP Headers. If you need to check for response, look at other URLs, or follow a goal funnel, use API or Transaction checks, and consider using Group checks to nest related systems into a single check.

RUM
Real User Monitoring checks collect performance statistics based on your real users, and provide alerts when latency exceeds a specific value. RUM reports contain value statistics on average load time, average first render, and statistics broken down by browser and location.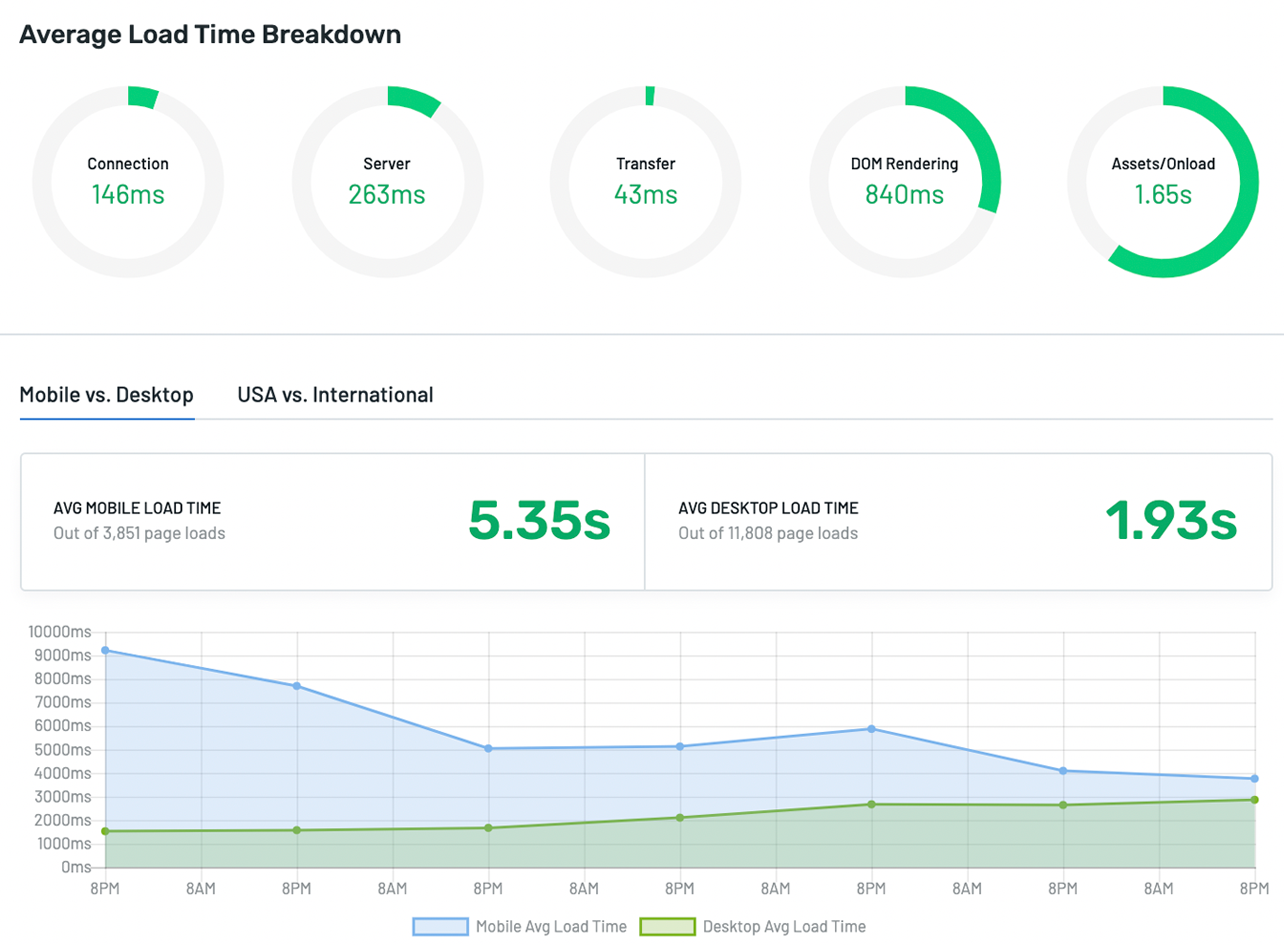 RUM checks require an HTML snippet Uptime.com provides to collect data. It must be placed just before the closing </body> attribute of any URL you are monitoring.
Our Full List of Check Types
Here is a full list of check types offered by Uptime.com:
Designating Contacts to Check if a Website is Down
This section will show you how to configure a responsive escalation system.
Add Multiple Contact Points
It's ideal to have a human user's contact points include email, SMS, and/or phone call alerting.
Configure Integrations
Uptime.com works with nearly 20 different integration providers. We also allow customized webhooks, and feature a REST API system that would allow you to receive alert data wherever you need it.
Use SSO
Single-Sign On is a security standard at the enterprise level, and Uptime.com uses SAML 2 SSO with configurations ready for AWS and OneLogin, for example. Users that are created through your IdP can become registered users in your Uptime.com account up to your account tier's allotted users.
Automated Testing
Uptime.com can capture performance metrics and alert you of downtime with advanced monitoring.
Transaction or Synthetic Monitoring
A transaction check uses a mix of commands and validators to test various multi-step funnels, like login forms or shopping carts. Here are some examples of transaction check monitoring:
Adding/removing items from a cart

Testing payment gateways with dummy credit card info

Testing coupon codes

Testing login pages

Verifying elements are present
API Monitoring
API monitoring tells you when endpoints are experiencing latency, when values are expected and not appearing, status codes and more. You can ping multiple endpoints in a single check, or use it as a multi-step HTTP(S) check that ensures status is OK 200.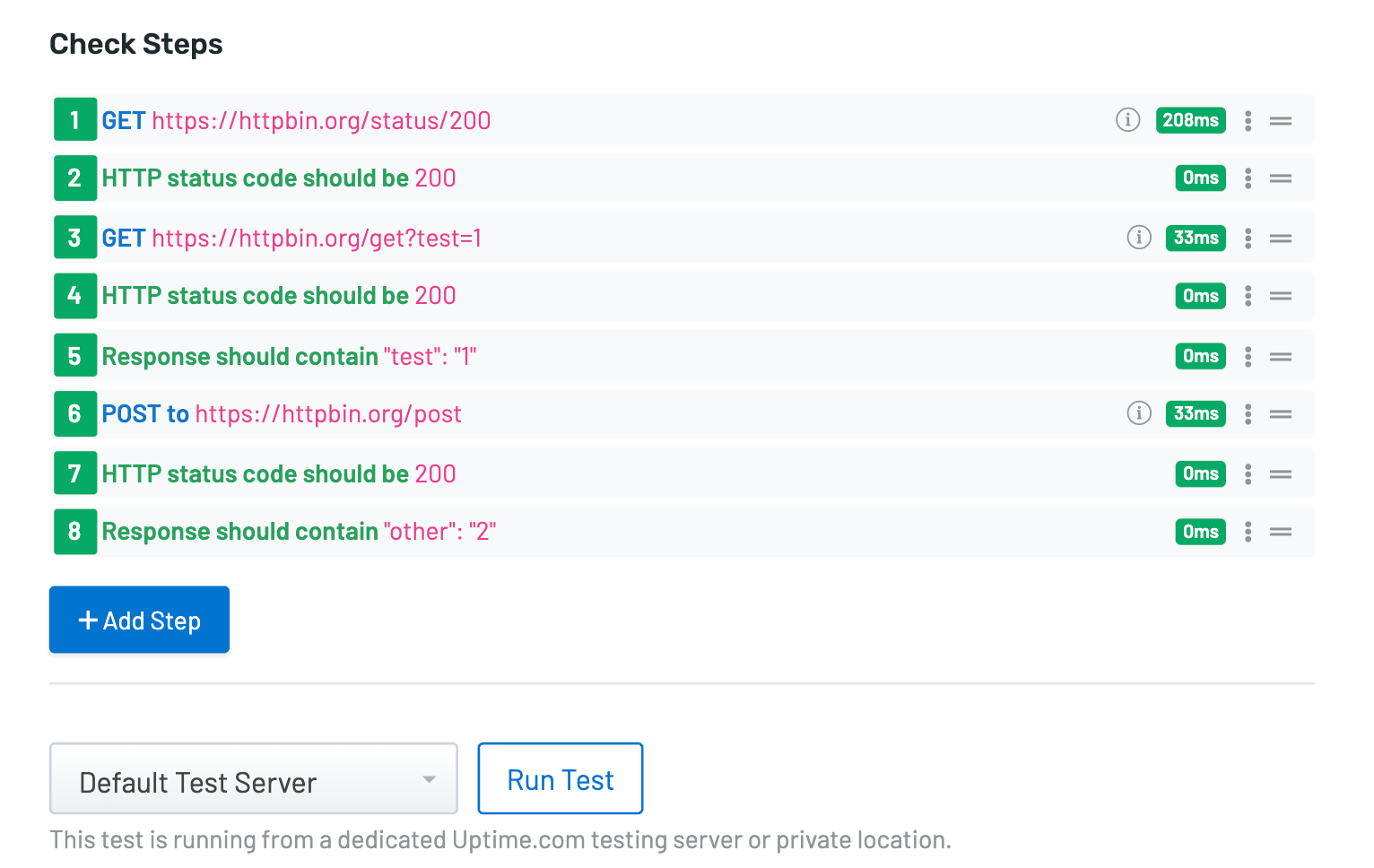 Status Pages
The Dashboard of Uptime.com provides fairly comprehensive insights into the state of your monitoring system, but that view is limited to only Uptime.com users under your account.
Status Pages are a public-facing timeline of downtime events and performance metrics. Status pages are rapidly becoming an important standard for SaaS companies as a means of notifying users who may experience connectivity issues. Uptime.com provides incident management and the ability to drill down into individual check statistics if desired. The Uptime.com SLA Report also allows your organization to report on specific checks or systems for the purposes of SLA accountability.