The Uptime.com mobile application is available on both the iOS app store and Google Play. Our mobile application allows users to monitor checks and receive push notifications for up and downtime alerts, so you can manage your alerts and checks on the go.
Please note: If your account uses 2FA, Uptime.com suggests creating a dedicated view only account for mobile app usage. You can learn more about new user setup here. If your account forces SSO usage, the mobile app will not be accessible pending a forthcoming upgrade.

Table of Contents
Setup and Basic Use
First, download the application to your mobile device via the respective app store. Open the application for the first time and log in. First-time users will be prompted to enable push notifications.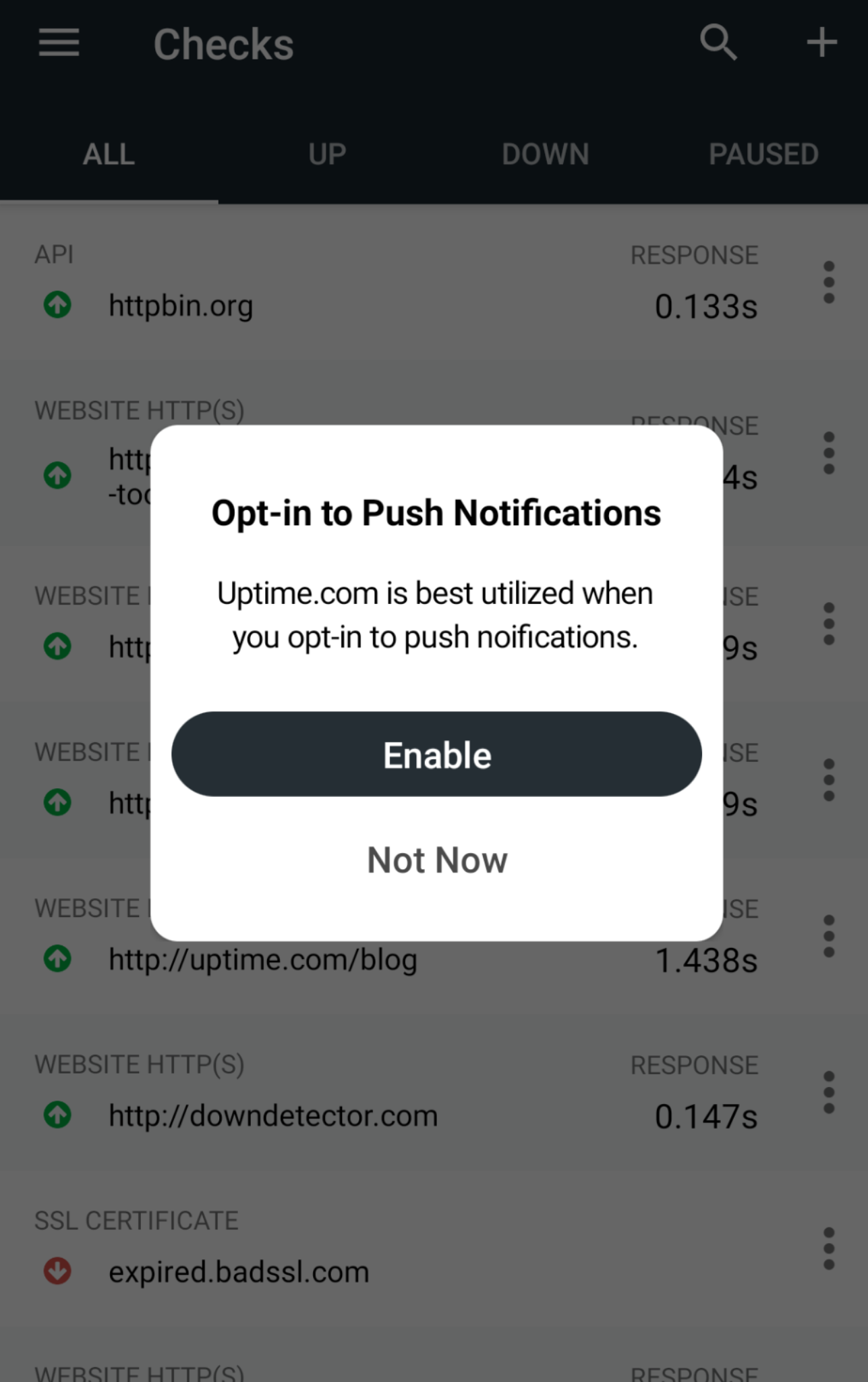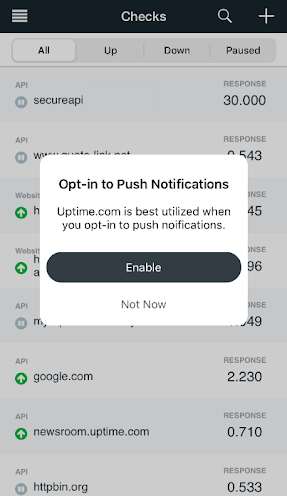 Enable Push Notifications
Tap Enable and you will be taken to a screen to toggle push notifications on and off. Once you have toggled push notifications on (push notifications are enabled as soon as you tap Enable on Android, iOS users will need to tap Allow from the prompt), you need to select which Contacts should receive push notifications.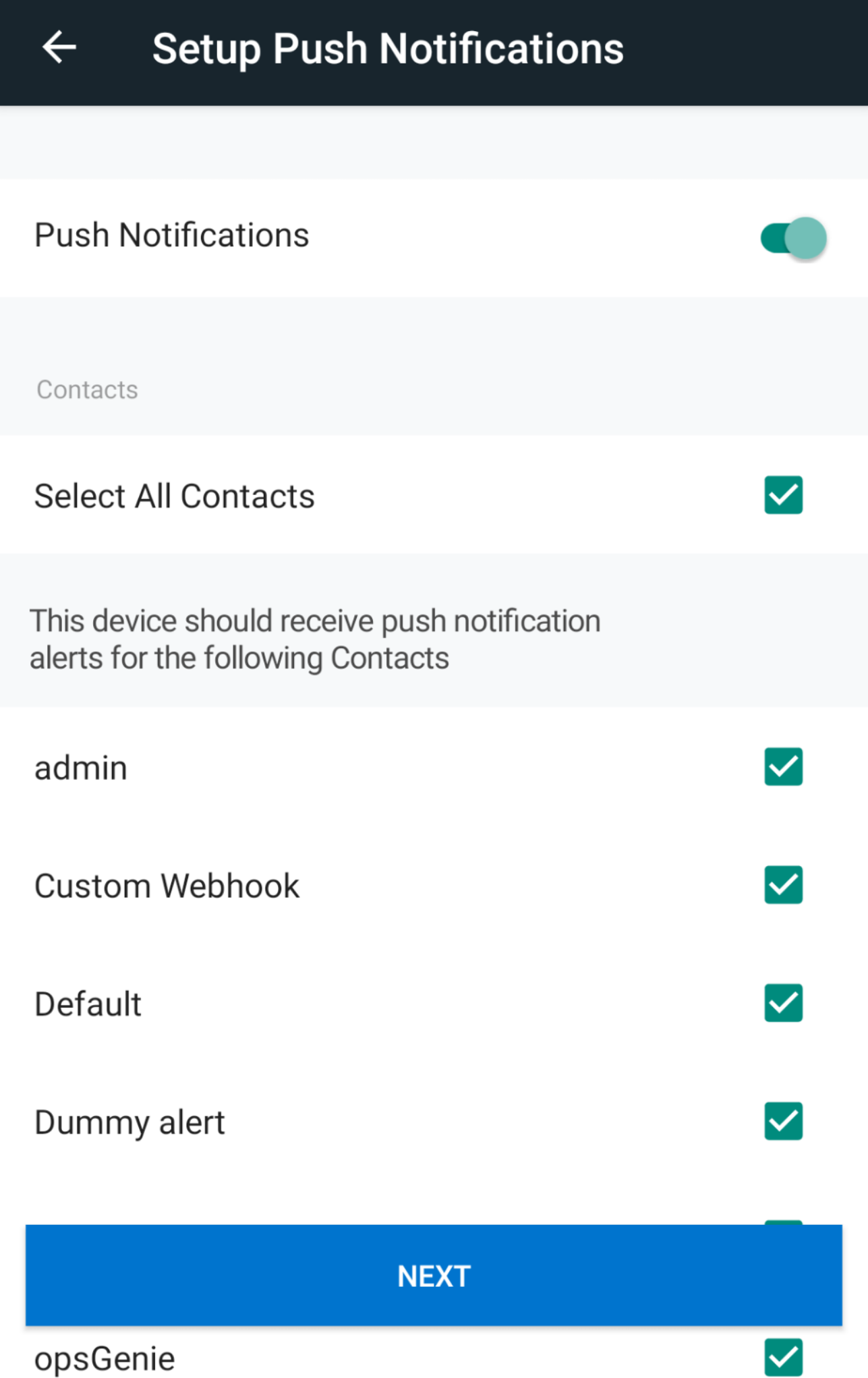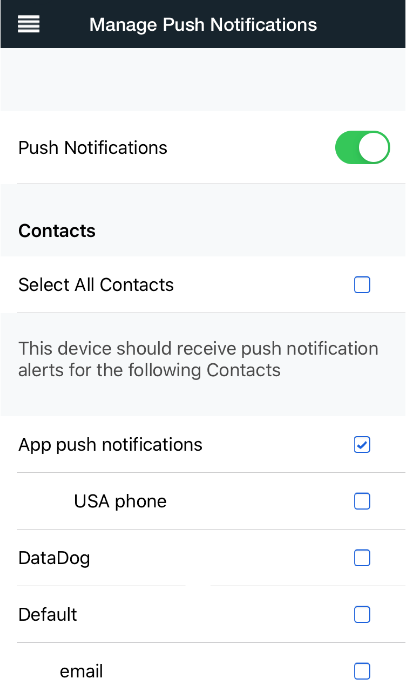 Once you have selected the contact(s) that should receive notifications, each check associated with your contact(s) will issue push notifications to your device. Multiple devices can receive alert notifications intended for a single contact.
Up/Down Notifications
Users will see different screens depending on whether the check status is Up or Down.
If the status is Down, the user will tap the push notification and see the alert details for the alert that was triggered.

If the status is Up, the user will tap the push notification and see the check's report screen.
Reports
Uptime.com mobile users have access to reports at daily, weekly, and monthly intervals. Daily reports provide data from the previous 24 hours and are selected by default upon entering the reporting screen. Weekly reports offer data from the previous 7 days. Monthly reports offer data from the previous 30 days.
Downloading Reports
Scroll to the bottom of a report and tap Download to download metrics from the specified time period. The report contains:
Uptime for the period (expressed as a percentage)

Number of outages

Total downtime for the period

Average Response time

Detailed

response time metrics
Checks
The following information applies only to users with administrator or view and modify privileges. These users can create a new check or edit an existing one. To create a new check, tap the + button at the top right-hand of the screen, and enter the required check details:
Check Name

Check URL/IP

Check Type

Check Interval
Tap Locations to specify probe servers. If the location selected is Default, Uptime.com will create new checks with US-West, US-Central, and US-East probe servers monitoring.
Depending on whether your account has access to probes around the world, checks will also utilize UK, Austria, Netherlands, and Singapore probe servers.
Editing Existing Checks
To edit a check, locate the check from your list and tap the three dots (tap and hold for iOS) next to the check you wish to edit. Then tap Edit Check (just Edit in iOS) to see the check's edit screen.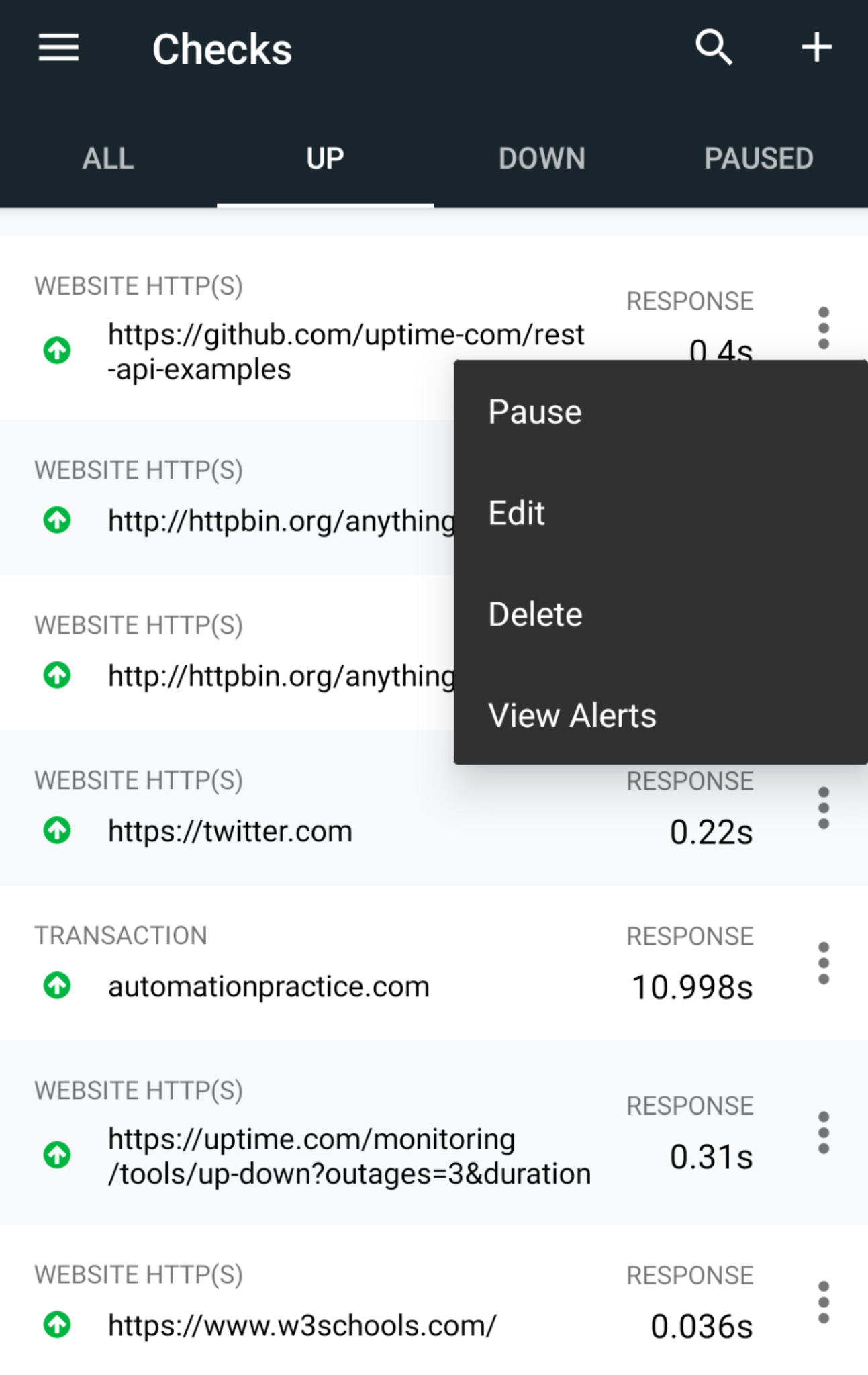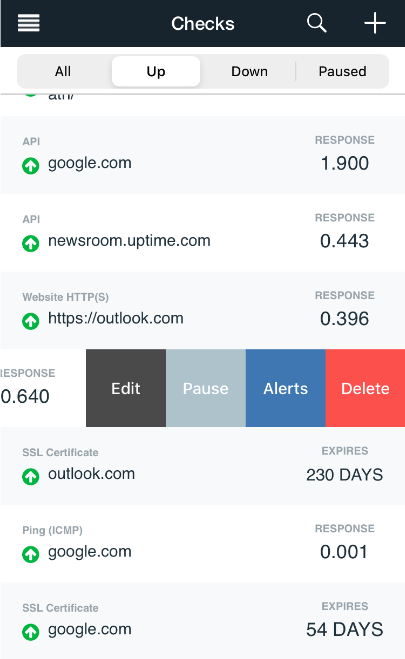 Here you can change the check's settings, such as Location, check name, contacts associated with the check, port, username and password (for basic auth), string to post, and string to expect. You can also add HTTP Headers.
You can also Pause or Delete a check. iOS users can Duplicate a check from the mobile UI.

Please note: it is not possible to set a maintenance window or escalation, or to perform real-time analysis via the mobile application. API, Transaction check, NTP, DNS, Domain Expiry, and RUM check creation and editing are also not available via the mobile application. Please utilize the Uptime.com web application for this functionality.ality.
Alerts
Alerts are issued via push notification, email, SMS, and third-party push notification providers. Push notification alerts from the Uptime.com mobile application will be clearly marked with the Uptime.com icon.
Users also have access to the Alert History of the account by tapping the main menu button (indicated by three lines), followed by Alerts. Users can view details of Down alerts from this screen.