In this brief article, we will cover how to setup Secure Socket Layer (SSL) Certificate checks. This check monitors data files that link a company's information to an encryption key that "locks" web server data in a secure manner once per day. This tutorial assumes that you have logged into Uptime.com.
Monitoring SSL Protocols and Adding Your First SSL Check
Secure Socket Layer (SSL) checks ensure a layer of security is always in place. Uptime.com can monitor various protocols once per day including:

SSL Certificate: The SSL certificate enables the HTTPS protocol when active. Read more about SSL.
SMTP (Simple Mail Transfer Protocol): (STARTTLS)
POP3 (Post Office Protocol): (STARTTLS)
IMAP (Internet Message Access Protocol): (STARTTLS)
FTP (File Transfer Protocol): (STARTTLS): used when transferring sensitive data between a client and a server on a computer network
XMPP (Extensible Messaging and Presence Protocol): used for real time data exchanges between two or more networks
IRC (Internet Relay Chat) monitors the facilitation of communication via chat typically through private messages that may also include file sharing
LDAP (Lightweight Directory Access Protocol): (STARTTLS) accesses and manages directory information over IP networks.
Please note: self-signed certificates are not currently supported by the SSL check. The Response Time column for SSL will be displayed as Expires: [VALUE] days on both dashboards and status pages.
Any of these checks can be added by clicking Monitoring followed by Checks, and then Add New. In the Protocol field, select any of the above protocols from the list of drop-down menu options.
For a detailed explanation of each field, please take a moment to familiarize yourself with the Field Explanation Support article.
Use Cases - Monitor Individual SSL Certificates for Google.com
The inclusion of an SSL Certificate Check, regardless of protocol, via Uptime.com monitors servers that handle encrypted data. Monitoring decreases the likelihood of SSL expiration (or failure), and ensures a site remains trusted. SSL failures affect a company's branding, and compromises the trust customers place in a website.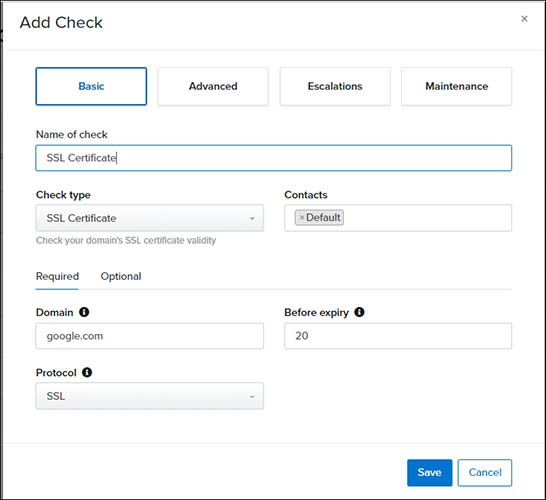 We will need to fill in the following details:
Each of the fields below are required:
Domain

Before expiry (This example warns you 20 days before the certificate will expire)

Protocol (Used to check the certificate)
A Note on Protocol and Failed Checks
When an SSL Certificate check fails, the contact will receive an email like the example below that highlights the server being checked, date, time, location and explanation of why the SSL Expiry check failed.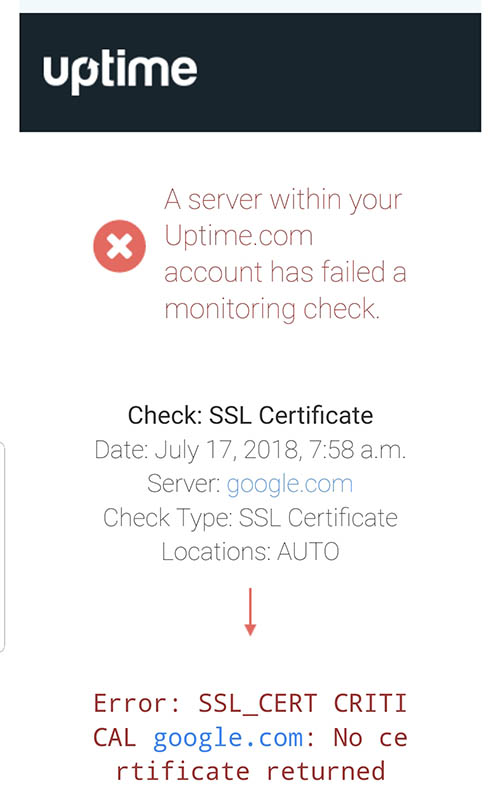 Finalizing Your Check
Before you finalize your check, click Run Test to verify your settings are returning the expected results.

Please note: This check type is run once per day. If you experience a failure, and believe the issue is corrected, you can click Run Test to verify settings are correct. The check will return to UP status 24 hours after the alert was issued, assuming the test is successful and no other issues are detected.
Before saving your check, be sure that you have included all of the required information for the following parameters.
Before expiry (Use 20-day time interval for this example)

Protocol
To see your SSL Certificate Checks, log in to your Uptime.com account, then click on Monitoring and then Checks.
Other Commands
In addition to the check itself, you can schedule routine maintenance downtime, or control how long it takes to escalate downtime events.
Please take a moment to familiarize yourself with the Uptime Checks Field Explanation Support Article. We've also included a notes section in this Check for any additional information you'd like to save for future reference.