This article covers the setup and purpose of the Secure Shell (SSH) functionality built into Uptime.com.
SSH is a set of rules and protocols for secure data communication or remote shell services. Many servers provide the ability for remote login to a shell with SSH services. Uptime.com's
SSH checks provide information about the availability of your SSH services. The following tutorial assumes you're already logged into Uptime.com.
Adding Your First SSH Check
To add a new SSH Check, click Monitoring followed by Checks and then Add New. Select SSH from the Check Type drop down.
Check That Your SSH Services Are Available
The default setting for frequency is 5 minutes, but you can adjust the frequency of the SSH check from 1 minute to an hour.
This test will check your domain or IP to determine if the SSH service is accepting connections. If you don't set the port number your SSH service is responding on, it will default to port 22.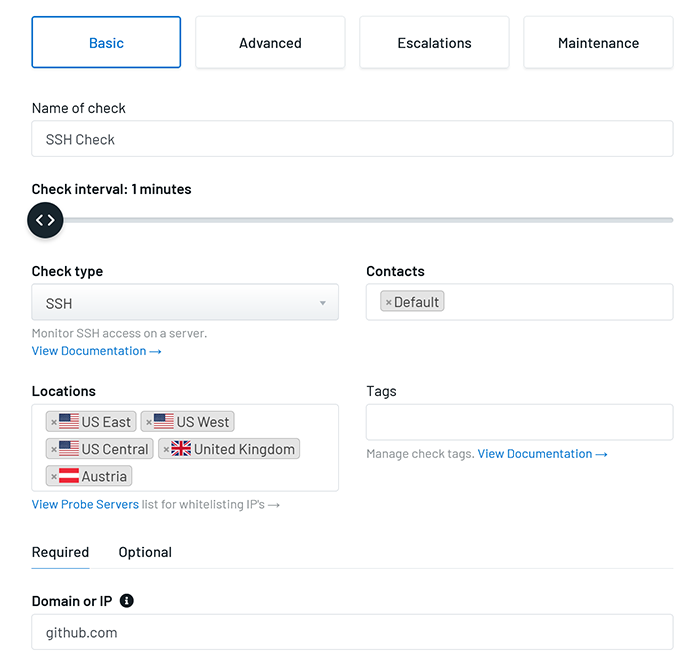 Required Parameters for the SSH Check.

Optional Parameters for the SSH Check.
For a detailed explanation of every parameter, please review the Uptime Checks Field Explanation Support Article.
Failed Checks
When you first created your Uptime.com account you entered an email address for the individual to notify in the event of a failed check. The individuals specified will receive automated email notifications by default, including a response code, locations of failure, and which checks have failed in the description.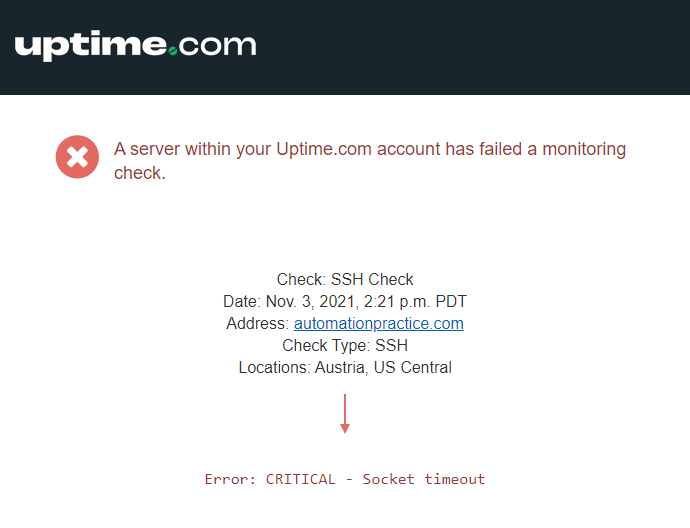 When you receive the email alert, login to your Uptime.com account and click on Monitoring, followed by Checks and then locate your SSH Check to view technical details of the error report.

We will fix our check and wait for testing to indicate the SSH access is back up. Uptime's next check will observe the SSH server is now functioning, and run the validation we defined. Uptime will send our contacts a new message informing us the SSH access is available and the total length of downtime.
Finalizing Your Check
Before you finalize your check, click Run Test to verify your settings are returning the expected results.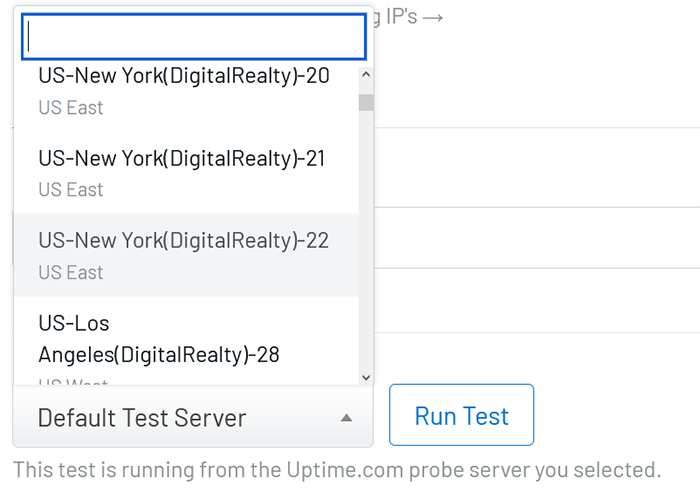 Please note: This check type is run once per day. If you experience a failure, and believe the issue is corrected, you can click Run Test to verify settings are correct. The check will return to UP status 24 hours after the alert was issued, assuming the test is successful and no other issues are detected.
Required fields in the SSH check include:
Name of check

Check frequency (1 minute to 1 hour)

Contacts (for notification purposes)

Locations

Check Type

URL or IP
This check will run automatically based on the the frequency you specify (between 1 minute and 1 hour). Entering an appropriate check interval allows response to incidents as soon as they happen.
Other Commands
In addition to the check itself, you can schedule routine maintenance downtime, or control how long it takes to escalate downtime events.
Please take a moment to familiarize yourself with the Uptime Checks Field Explanation Support Article. We've also included a notes section in this Check for any additional information you'd like to save for future reference.