This article will cover the setup and purpose of email server check functionality built into Uptime.com which includes three different checks. The following information provides examples and setup instructions for SMTP/POP/IMAP checks.
Adding Your First SMTP/POP/IMAP Server Check
Simple Mail Transfer Protocol (SMTP), Post Office Protocol (POP) or Internet Message Access Protocol (IMAP) checks can be added by clicking Monitoring>Checks and selecting either SMTP, POP or IMAP from the Check Type list of drop-down menu options.
Monitor domain email servers on a continual basis with these checks. Email server monitoring catches downtime that affects the servers sending or receiving email. SMTP/POP/IMAP checks attempt to open a connection with the host using either IPv4 or IPv6.

Uptime.com requires the following details:
The check name

Check interval time (We are using a 5-minute interval for our examples)

Domain or IP to check (The only "Required" value)

Optionally, a string of text the check should expect to see
Please take a moment to familiarize yourself with the Field Explanation Support article.
Use Cases – Monitor Individual SMTP/POP/IMAP Servers for Google.com
By including either the SMTP, POP or IMAP server checks via Uptime.com, email activity can be monitored to ensure email is delivered as expected.
SMTP

Check Interval
5 Min
Contacts
Default
Locations
US-East, US-West, US-Central, GBR, AUT

Check Type
SMTP
Domain or IP
google.com
Port
110
Username (if any)
jjones@google.com
Password (if any)
AdB$#*)%3123!
Encryption
SSL/TLS
String to expect
"+OK"
POP/IMAP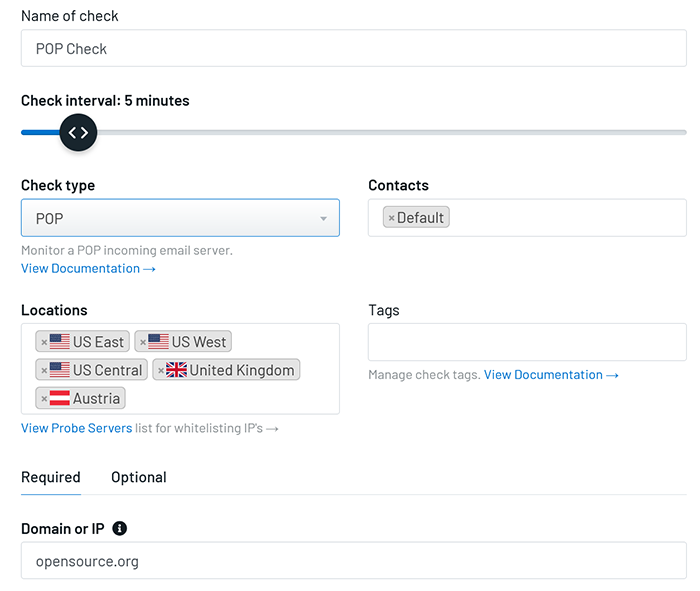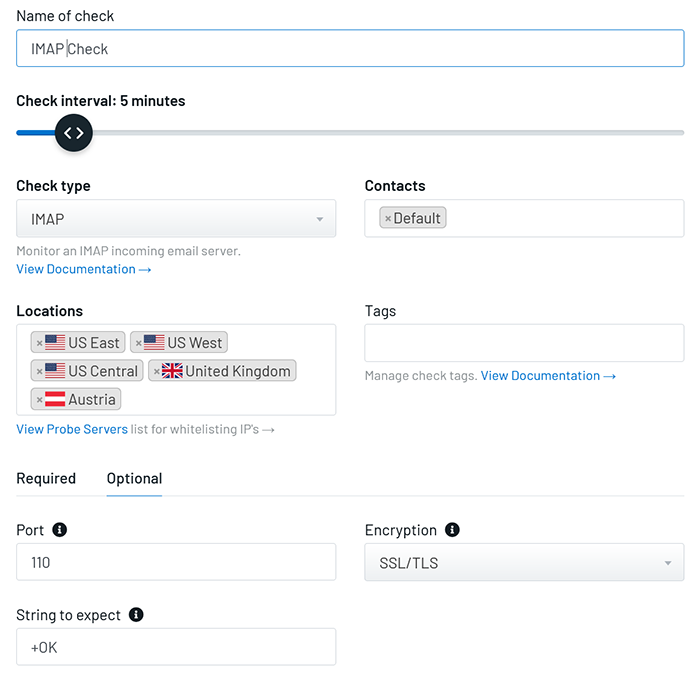 Check Interval
1 Min
Contacts
Default
Locations
US-East, US-West, US-Central, GBR
Check Type
POP
Domain or IP
google.com
Port
110
Encryption
SSL/TLS
String to expect
"+OK"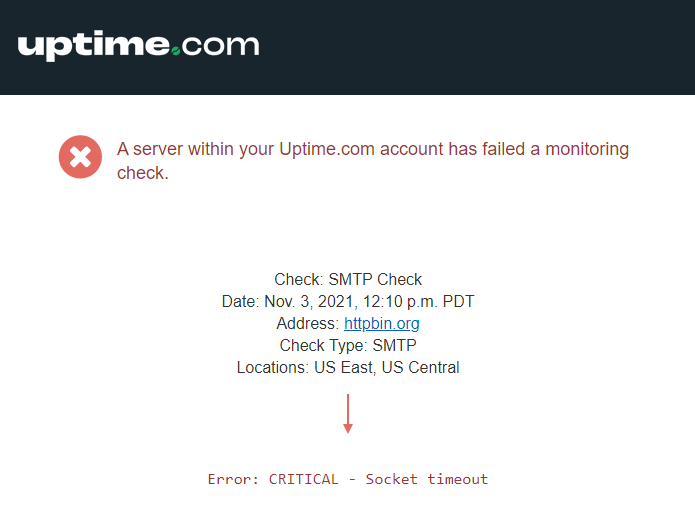 Refusals, timeouts, and other errors that a SMTP, POP or IMAP check encounters trigger Uptime.com to issue an alert similar to the email example below. These alerts provide details about the server being checked, date, time, location and explanation of why the SMTP, POP or IMAP check failed.
Finalizing Your Check
Before finalizing your check, utilize the Run Test button to verify your settings are returning the expected results. To run a test, select from any of the probe server locations available to your account from the Location dropdown and click Run Test.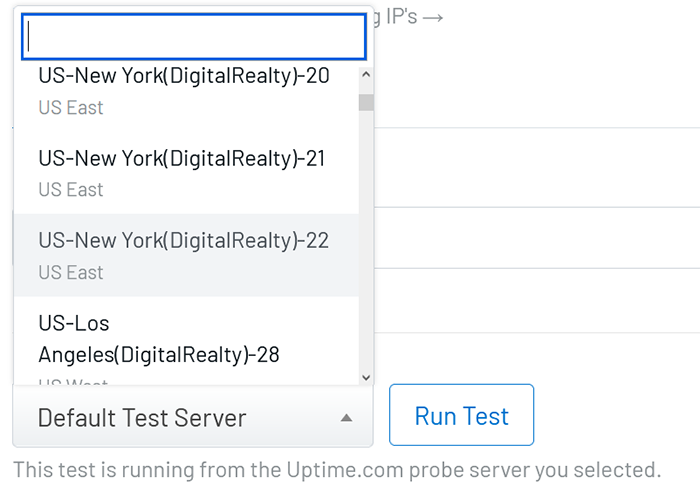 Before saving your check, be sure that you have included all of the required information for the following parameters.
Name of Check

Check Interval

Contacts

Locations

Check Type

Domain or IP
To locate check reports, click Reports>Alerts or view your most recent alerts from the Dashboard.
Other Commands
Each of these checks contains an Optional tab, which allows for users to enter a specific port or IP address to monitor, and define the encryption protocol preferred for Uptime.com to use (either IPv4 or IPv6).
Uptime.com fills in the IP address automatically, so users can adjust this value only as needed. This example shows the optional tab for an IMAP check. Note that the SMTP check is the only check in this grouping that allows for a username and password.

In addition to these Email Server checks, additional checks can improve the process of monitoring your servers from multiple locations. We recommend utilizing a Ping ICMP check in conjunction with Email Server Checks to ensure overall network latency is low, and servers are performing well.
While most of our fields are explained in Uptime Checks Field Explanation Support Article, we've also included a notes section in this check for any additional information you'd like to save with the check for future reference.