Librato is a cloud monitoring platform for real-time operations and performance analytics. The integration allows you to check response time metrics from their platform, and we have worked together to make the integration seamless. To get started, you will first need to set up a Librato account at https://librato.com/. Uptime.com requires the following:
Email address used to register with Librato

API Token
Integration Functionality
Integration with Librato allows for the following:
Check response time metrics from Uptime.com within Librato
Integration Setup
First, login to Librato and click on Account Settings. Click API Tokens>Generate New API Token. The next screen will ask you to name your API Token. Once named, click Generate. Copy the Email Address associated with the token and the API Token, and then return to Uptime.com.
In order to activate the integration of Librato within your Uptime account, you will go to Notifications>Integrations, then click New Profile. Select Librato as the Provider Type.
Paste the Email Address and API Token into the text fields on Uptime.com. There's no need to pre-create a metric, rather enter a Name above and your metric will be created as soon as the first chunk of data reaches Librato.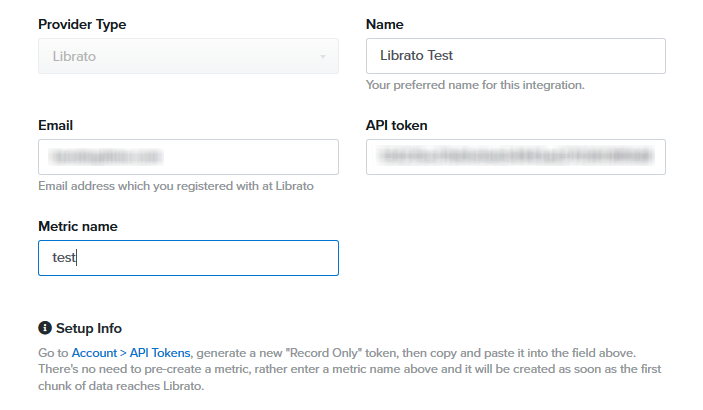 The following describes the fields shown when configuring Librato within your Uptime account:
Name:

The reference name you desire to assign to your Librato profile. It can assist you with organizing multiple provider profiles within your Uptime account.

Email:  

The email address used to register with Librato.

API token:

This will be obtained from Librato.

Metric name:

The name of the metric Uptime.com will create in Librato.
Once you've configured your Librato integration, you will need to assign it to a contact and make sure that contact is notified when a Check goes down.
First, click Notifications>Contacts>New Contact. Select Librato from the Push Notifications field within the New Contact screen.
Finally, return to your Check's Edit screen and assign Librato as one of the Contacts to be notified of a downtime event.

Test your integration with one of the following two options:
Force the Check assigned to your Integration to fail by altering it (HTTPS checks can use a misspelling of the domain, for example)
Click Notifications>Contacts, then click Actions>Test to send a test to the Contact