Uptime.com's website performance and availability platform uses a flexible subscription model. Select from two base presets, and adjust individual feature quotas as needed from there. From your Uptime.com account, account owners can add additional quotas, manage your payment methods, and see previous invoices.
Please note: All account user types can view the current subscription and generate a quote on desired adjustments, but only the account owner can make such upgrades or add/edit payment methods.
Subscription Plans
Uptime.com offers a number of subscription presets to start. Subscriptions can be billed monthly or annually, with annual plans receiving an additional -15% discount. For a full breakdown, please see our Pricing page.
We don't believe in limiting monitoring functionality based on your subscription tier. Our features -- checks, reports, status pages, etc -- all work the same regardless of your plan. However, some of our higher subscription tiers may have expanded or additional features and higher base quotas, as well as eligibility for add-ons like Subaccounts and Private Location Monitoring.
Please note: Details included in our Pricing page represent current presets and price points for new customers, and are subject to change at any time prior to your subscription date. If you already have an Uptime.com subscription, exact pricing and feature details of your plan can be found under Billing > My Subscription.
Free Trials
We offer a 14-day Free Trial, with no credit card required. Free Trials come equipped with our highest tier of quotas and features to make sure that you get the full picture of our platform and capabilities, including add-ons like Subaccounts or Private Locations.
For any assistance during your Free Trial, please contact support@uptime.com.
Requesting a Quote
Our Self-Service Subscription Tool can generate PDF quotes based on the selected plan (and any additional quota increases). Active paying of Free Trial accounts can access this tool from their Uptime.com account to generate any quotes necessary at will.
For specifics steps of this process, see Generating a Quote below.
For prospective clients without a Free Trial: please contact support@uptime.com with an outline of your use case and monitoring needs, and we'll generate a quote for you.
Managing Your Subscription
Uptime.com account owners have the unique permissions to update payment methods and add additional quotas using our Self-Service Subscription Tool. However, all account users can view the current subscription and account details.
For more information on user permissions, see our support article Overview of Account Management.
Please note: If you need to update the account owner for any reason, please email support@uptime.com.
Updating Payment Methods
Account owners can go to Billing > My Subscription to add or update their Payment Method, or upgrade their subscription tier.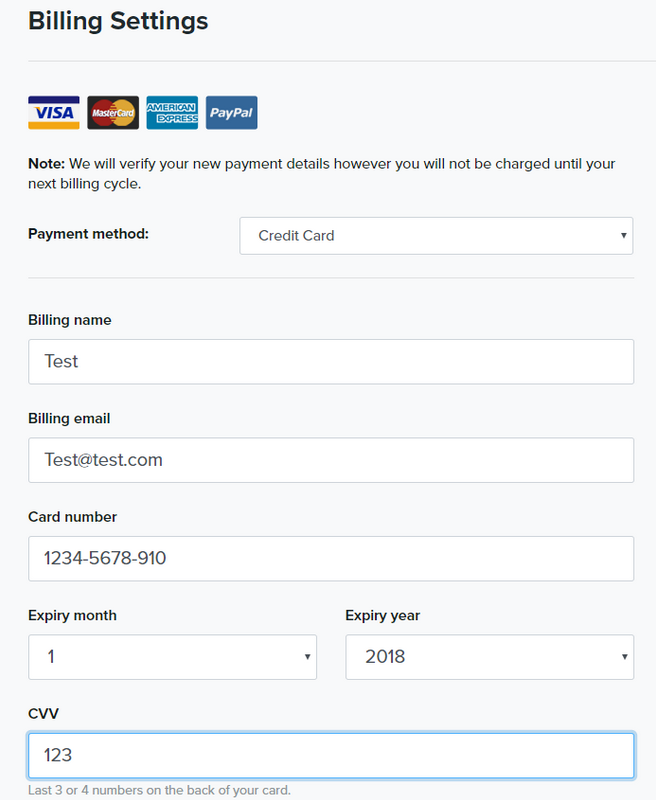 Credit Card or PayPal are our currently supported payment methods.
Please note: We may accept invoicing or payment via Purchase Order (PO) for Premium clients only, on a case-by-case basis. For more information, please contact support@uptime.com.
Viewing Current Account Usage
Return
Go to Billing > Account Usage to see a breakdown of your Uptime.com account's available features, as well as associated usage and quota limits.
Please note: If subaccount(s) are activated, each subaccount will have a separate column for their quotas, with a final column for global totals.
Using the Self-Service Subscription Tool
Uptime.com's flexible pricing model means that you can add exactly what features or additional quota limits your needs require, at any time.
To do so, go to Billing > Upgrade, and use the tool to add each desired amount. It will show a projected total price in the banner at the bottom. Click "Next" to see the payment overview screen, which includes an option to generate a quote of the updated subscription rate.
If your subscription (or desired upgrade) goes above our self-service limit, you will be prompted to contact support@uptime.com for assistance with a Custom plan. From there, we will assist you with any quota limits and handle billing once you've added your Payment Method.
Please note: While non-account owners can view the upgrades and generate quotes, only the account owner can authorize and make adjustments to the account's subscription.
In-Window Upgrades
If you attempt to add a new check type, but have already hit your subscription's check quota limits, account owners can purchase the necessary check(s) direction from the Edit Check window, instead of going to Billing > Upgrade.
When the maxed out check type is selected, Account Owners will see a warming message will appear with the option to Purchase the check(s) directly, or to Manually Upgrade via the Self-Service Subscription Tool.

By selecting Purchase, the additional quota will be added and prorated to your current subscription. An email notification will also be sent, with the corresponding invoice made available shortly after.

Please note: If any other account users attempt this process, It will instead see a button to Send Request to send an email to the account owner, letting them know of the needed upgrade.
Generating A Quote
To generate a quote, go to Billing > Upgrade and select the desired additional quota amounts.
At the bottom of the screen there will be a banner that says "Next".

From the next screen, there will be a box labeled Purchase Summary, with a link for "View Quote", which will generate an automatic PDF quote with an Uptime.com header and details of your selected addition at your current subscription plan and billing period.

Please note: We will honor the pricing on quotes (automatically generated, or provided by Support) for a period of 30 days from the date of generation. Pricing and quotes generated after that period may be subject to change.
If you have any questions with this process, please contact support@uptime.com.
Billing
Billing History
To view Billing History and Invoices, go to Billing > My Subscription and select Invoices.

Please note: Recent invoices may take an hour or two after processing to be available with in the Uptime.com account.
Invoices
Account users with Admin or Owner permissions can view the account's invoice history in Billing > Invoices.
Any invoice you receive from Uptime.com uses information from the following fields in Account Details:
Additionally, the invoice will contain the date issued and your invoice number as well as the company address and name of Uptime.com.

Any user on an Uptime.com account can receive invoices regardless of account status.
Navigate to Settings > Users, then locate the user who should receive invoices from the list of registered Uptime.com users. Click the Actions > Edit, and tick the box to Send New Invoices Via Email from the User Edit screen. Checking this box will send future invoices via email directed to the address that belongs to the designated user.
Please note: Owners can designate a user (or users) to receive invoices via email, but those designated users cannot pay or respond to invoices.
Security Protections
Uptime.com is committed to protecting consumer credit card data in compliance with the Payment Card Industry Data Security Standard (PCI DSS). Our alignment with this standard is reflected in the people, technologies and processes we employ.
The PCI Attestation of Compliance (AoC) for our merchant status is also available upon request via dpo@uptime.com.
Final Thoughts
Uptime.com offers a flexible billing plan and ad hoc subscription additions to make it easy to pay for exactly what you need, with no fear of waiting for upcoming billing periods or fees to adjust your subscription. Select what you want and know that if you need more later, you can add it just as easily then.
If you have any questions, please contact support@uptime.com for further assistance!