This brief article will cover account access and invoicing functionality with Uptime.com. A user's access to Uptime.com is restricted to the permission level and account access methods available to that user. This article will further detail these methods, and offer some tips and use cases on permission levels with regards to invoicing and general security requirements.
This tutorial assumes you are logged in as an Uptime.com owner or administrator user, and that your account has more than one Uptime.com user created.
My Subscription
The My Subscription page is available to account owners and administrators. Users with the correct permissions can upgrade, view payment methods, view a history of all invoices attributed to the Uptime.com account, and view the current account usage. To access, click Billing>My Subscription.
Please note: To change an account's owner, contact support@uptime.com.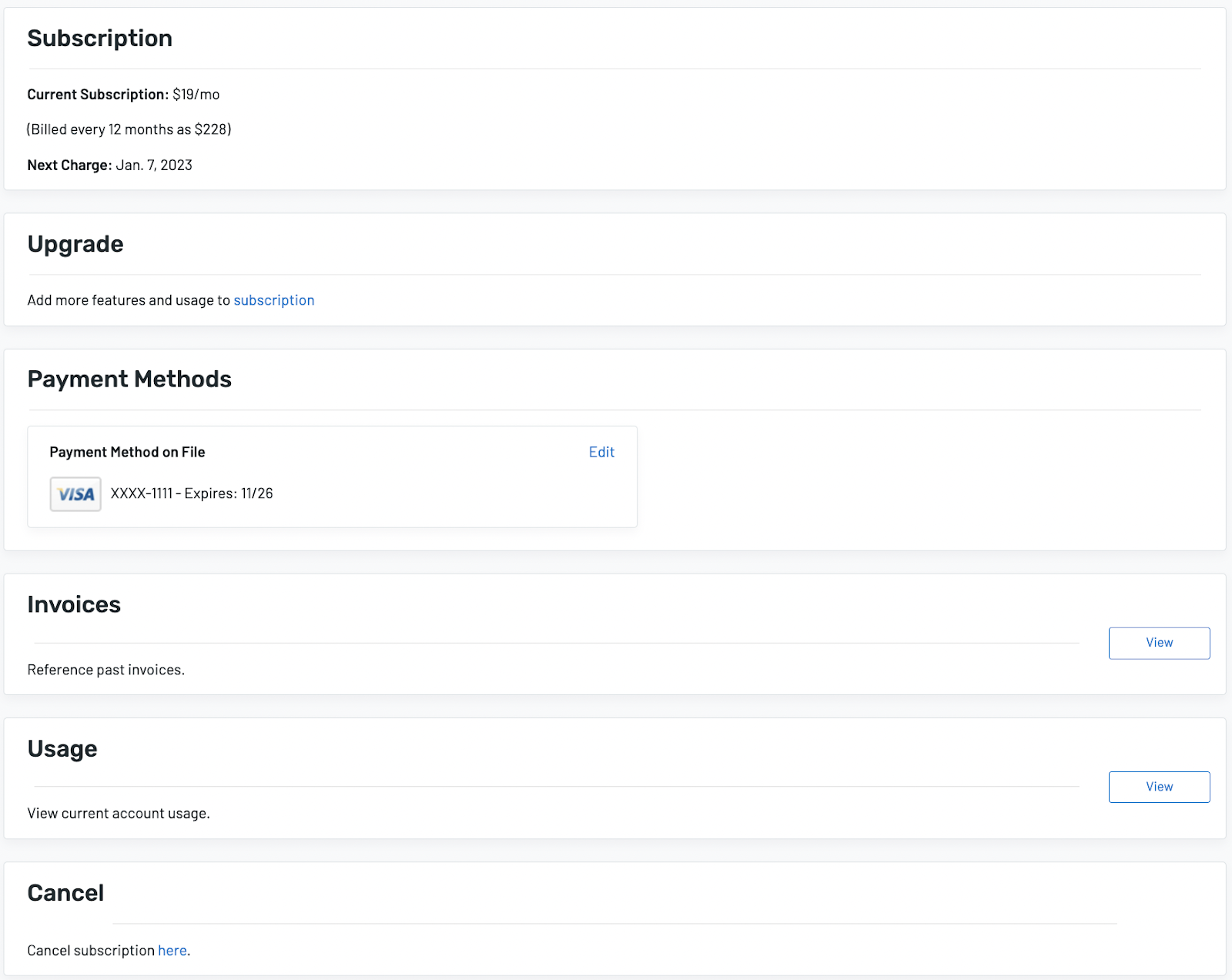 Upgrading Your Subscription
Users with account ownership can click subscription under Upgrade to add features, and are the only users who can add or modify payment information, or cancel the account.
Any available discounts pertaining to plan upgrades will also be listed under this heading.

*Please note that some discounts are only available if you subscribe to Premium when first subscribing to Uptime.com.
Viewing Invoices
Both account owners and administrators have the ability to view invoice history and account usage.
Subscription Info
The current subscription price, billing cycle, and next charge date can be found at the top of the My Subscription page under Subscription.
Viewing Usage and Invoices
To view the invoices for the history of the account, click view under Invoices.
To view account usage for the current period click view under Usage.
Please note: To change an account's owner, contact support@uptime.com
Account Details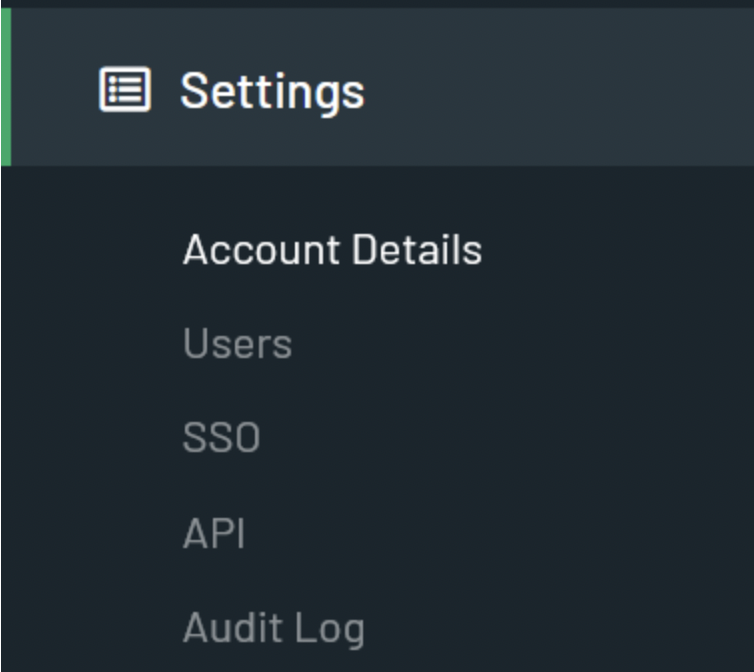 From this screen, account Owners can edit the primary email address, first and last name of the owner profile, Company name, phone number, address, set the account timezone, and set two-factor authentication requirements.
New invoices will reflect any changes to the company details on this page.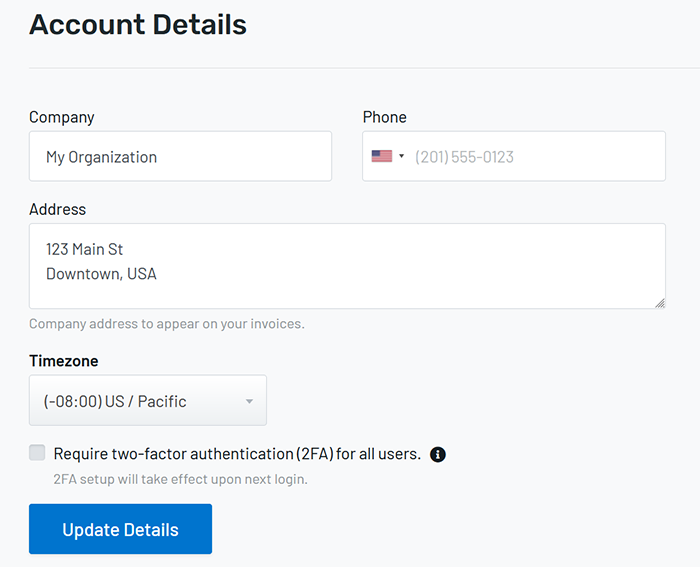 The invoice you will receive from Uptime.com uses information from the following fields:
Additionally, the invoice will contain the date issued and your invoice number as well as the company address and name of Uptime.com.

Payment methods can be changed by account Owners only from the Billing Settings page.
Two-Factor Authentication
Two-Factor Authentication (2FA) offers Time-Based One-Time Password (TOTP) authentication for every account tier. This additional layer of security is an excellent alternative for accounts that do not utilize SSO, and is a highly recommended step in account security. 2FA can be enabled account-wide from the Account Details page: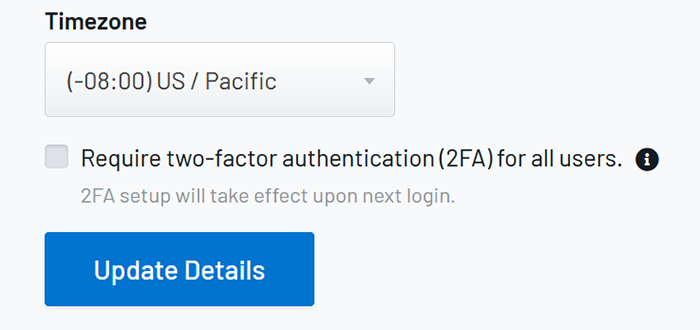 It is also possible to adjust individual 2FA permissions by user.
Once activating 2FA, users must first log out and re-enter the username and password to complete the setup of TOTP provider via either QR code or access key.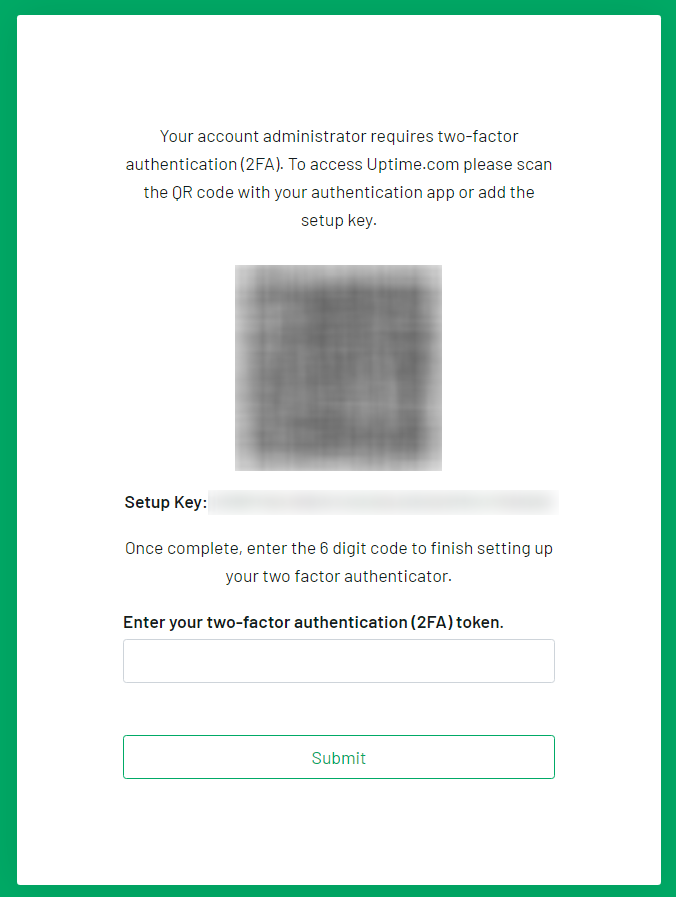 Upon successful setup, accounts with 2FA enabled will require 2FA for all future login attempts unless overridden by individual user.
Sending an Invoice from Uptime.com to a Specific User
Any user on an Uptime.com account can receive invoices regardless of account status.
Navigate to Settings>Users, then locate the user who should receive invoices from the list of registered Uptime.com users. Click the Actions>Edit, and tick the box to Send New Invoices Via Email from the User Edit screen. Checking this box will send future invoices via email directed to the address that belongs to the designated user.
Designated User Privileges
Invoicing in Uptime.com is privilege-based, meaning that only account Owners can change billing settings. This includes modifying or changing the primary credit card, debit card, or PayPal associated with the account, and changing subscription status.
Owners can designate a user (or users) to receive invoices via email, but those designated users cannot pay or respond to invoices.
Tips and Best Practices
Consider hierarchy when creating an account, especially for larger companies with more users attached to a single account. Owners are usually those able to make a purchase on behalf of your company, while administrators and user accounts can handle the functionality of creating checks and monitoring alerts.
Anyone on your staff that needs to view or process invoices internally can do so without Owner privileges. With email, these users don't even need to log in to Uptime.com.
Inspect Account Usage
At any time, you may view the details of your account usage for Uptime.com services. This screen will help administrators looking to maximize the value of Uptime.com with a quick overview of several important account metrics including:
Checks used

Available locations

Monthly SMS and Call numbers

Any SMS credits available

Number of users on an account

Availability of API, Content Matching, and Custom Branded Reporting services