In this brief article, we will cover how to setup Whois/Domain Expiry checks. This check allows you to monitor the domain registration and expiration period on your site sending an alert prior to the domain registration expiring in addition sending an alert if the domain registration (WHOIS) information has been modified. This tutorial assumes you are logged into your dashboard at Uptime.com.
Adding Your First Whois/Domain Expiry Check
To add a new Whois/Domain Expiry check, click Monitoring followed by Checks, and then Add New. Select Whois/Domain Expiry as your Check Type.
Every website domain must be registered. When this occurs, an expiration date for an allotted time is established (typically within one year). Renewing a domain is important to prevent services from being disabled. Users would not be able to visit your website, with no warning as to where your domain has gone or when it will be available again.
Please take a moment to familiarize yourself with the Field Explanation Support article before beginning this tutorial.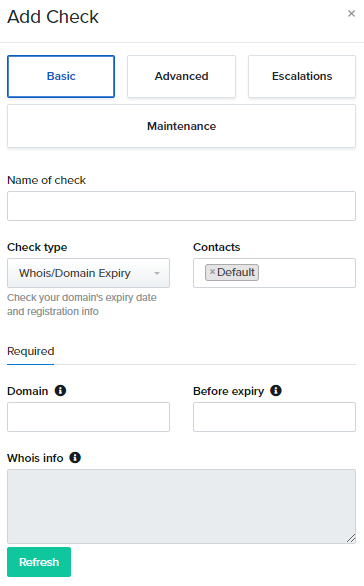 Use Case - Whois/Domain Expiry for Bank of America.com
By including a Whois/Domain Expiry check via Uptime.com, you can track a domain's expiration date and maintain uptime to critical user data. This check will give IT personnel 20 days advance warning to renew a domain, so users can continue to access any account information they may have stored on your website. Additionally, customer service will be spared tracking down issues to a problem IT has answers to if downtime were to occur.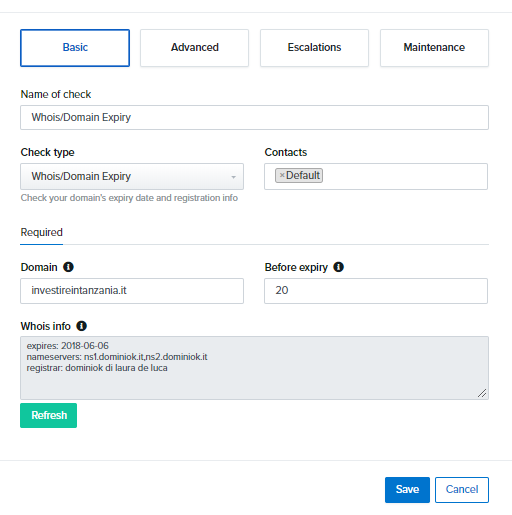 We will need to fill in the following details:
Each of the fields below are "Required" fields
Domain

Before expiry (Use 20 day time interval for this example)

Whois info (automatically determined when pressing the green "Refresh" button)
Whois info
We will use the following WhoIs info:
expires: 2023-12-28
nameservers: ns10.bac.com,ns11.bac.com,ns12.bac.com,ns6.bac.com,ns7.bac.com,ns8.bac.com
registrar: csc corporate domains, inc.
Failed Checks
When a Whois/Domain Expiry check fails, the contact will receive an email like the example below that highlights the server being checked, date, time, location and the number of days until the Whois/Domain info will expire.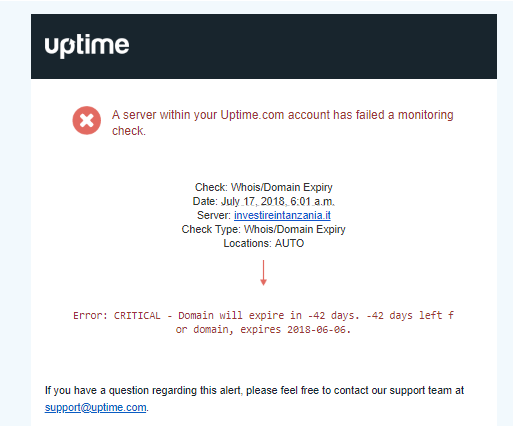 Finalizing Your Check
Before saving your check, be sure that you have included all of the required information for the following parameters.
Before expiry (Use 20 day time interval for this example)
Logging into your Uptime.com account and clicking on your dashboard provides instant access to any Whois/Domain Expiry checks established. More comprehensive statistics are available if you click on Monitoring, then Checks. Locate your Whois/Domain Expiry Check, and then click it to view a detailed, visual report of downtime.
Other Commands
In addition to the Basic checks, additional check information can be included related to times when your site is undergoing maintenance. Additional contacts can be sent escalation notifications if a check remains down for an extended period of time or failed checks can be ignored during site maintenance timeframes.

While most of our fields are explained in Uptime Checks Field Explanation Support Article, we've also included a notes section in this check for any additional information you'd like to save with the check for future reference.