In this brief article, we will cover how to setup Whois/Domain Expiry checks. This check allows you to monitor the domain registration and expiration period on your site, sending an alert prior to the domain registration expiring in addition to sending an alert if the domain registration (WHOIS) information has been modified. This tutorial assumes you are logged into your dashboard at Uptime.com.
Adding Your First Whois/Domain Expiry Check
To add a new Whois/Domain Expiry check, click Monitoring followed by Checks, and then Add New. Select Whois/Domain Expiry as your Check Type.
Every website domain must be registered, with an established expiration date of typically one year. The Uptime.com WHOIS Check is designed to catch this expiration date, either by a user-defined number of days or by a default time period of 20 days.
Additionally, the WHOIS Check auto-generates WHOIS information from your domain. The WHOIS check will then detect any change in the current information registered with Uptime.com (which can be used to prevent hackers from hijacking your domain).

Please take a moment to familiarize yourself with the Field Explanation Support article before beginning this tutorial.
Please Note: The Response Time column for WHOIS will be displayed as Expires: [VALUE] days on both dashboards and status pages. .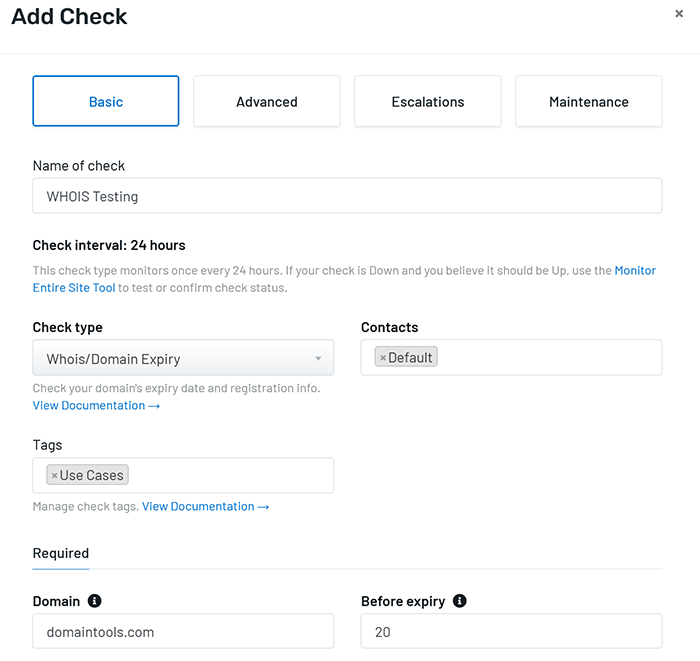 Troubleshooting WHOIS Downtime
A WHOIS Check occurs once every 24 hours, unlike other Uptime.com checks that can occur minute-by-minute.
Uptime.com will send a downtime alert with either the date of expiry or the WHOIS information changes Uptime.com recorded.
First, confirm that your domain registration is not set to expire.
Next, check that your WHOIS information is consistent with what Uptime.com expects to see. Occasionally, a registrar will change business entities or names. Confirm the change with your registrar, then click the Refresh button below your WHOIS Info to refresh this information and resume the Check.
Use Case - Whois/Domain Expiry for Uptime.com
By including a Whois/Domain Expiry check via Uptime.com, you can track a domain's expiration date and maintain uptime to critical user data. This check will give IT personnel 20 days advance warning to renew a domain, so users can continue to access any account information they may have stored on your website. Additionally, we will auto-generate WHOIS Info and make sure it never changes.


We will need to fill in the following details:
Each of the fields below are "Required" fields
Domain

Before expiry (Use 20 day time interval for this example)

Whois info (automatically determined, or press the green "Refresh" button to update existing information)
Whois info
Uptime.com auto-generated the following WHOIS info:
expires: 2023-06-02
nameservers: ns-1522.awsdns-62.org,ns-1918.awsdns-47.co.uk,ns-331.awsdns-41.com,ns-650.awsdns-17.net
registrar: uniregistrar corp
Failed Checks
When a Whois/Domain Expiry check fails, the contact will receive an email like the example below that highlights the server being checked, date, time, location and the number of days until the Whois/Domain info will expire.
The example below depicts a failure notice for a different domain.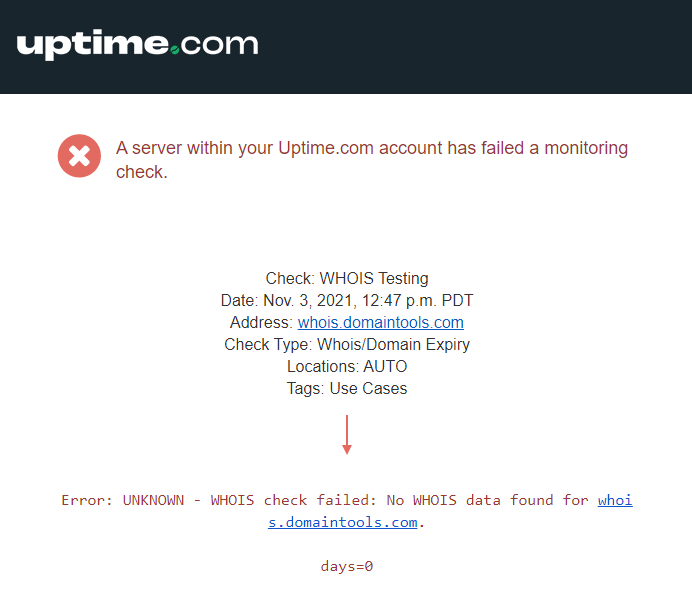 Finalizing Your Check
Before you finalize your check, click Run Test to verify your settings are returning the expected results.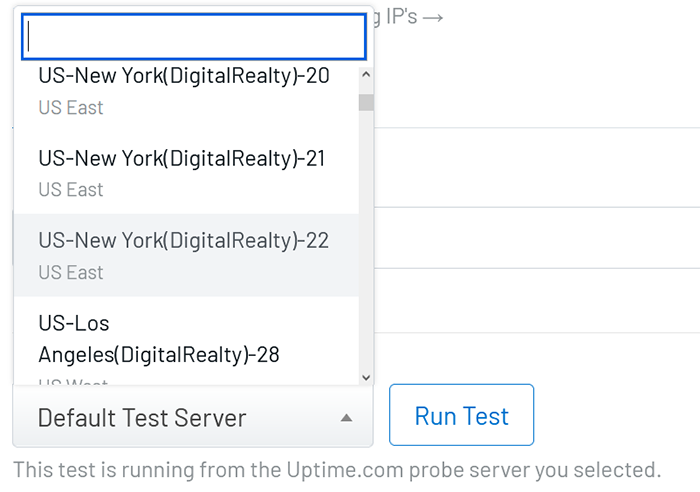 Please note: This check type is run once per day. If you experience a failure, and believe the issue is corrected, you can click Run Test to verify settings are correct. The check will return to UP status 24 hours after the alert was issued, assuming the test is successful and no other issues are detected.
Before saving your check, be sure that you have included all of the required information for the following parameters.
Before expiry (Use 20 day time interval for this example)

Whois expiry
Logging into your Uptime.com account and clicking on your dashboard provides instant access to any Whois/Domain Expiry checks established. More comprehensive statistics are available if you click on Monitoring, then Checks. Locate your Whois/Domain Expiry Check, and then click it to view a detailed, visual report of downtime.
Other Commands
In addition to the check itself, you can schedule routine maintenance downtime, or control how long it takes to escalate downtime events.
Please take a moment to familiarize yourself with the Uptime Checks Field Explanation Support Article. We've also included a notes section in this Check for any additional information you'd like to save for future reference.