Slack is fully integrated with Uptime to allow you to push alerts to their platform, and we have worked together to make the integration seamless. To get started, you will first need to set up a Slack account at https://slack.com/.
In order to activate the integration of Slack within your Uptime account, you will go to Notifications followed by Integrations, then click New Profile. Select Slack as the Provider Type when adding a new push notifications profile.
The following describes the fields shown when configuring Slack within your Uptime account: 
WebHook URL: This will be obtained from Slack. Please review the Obtaining Slack WebHook URL section below for further documentation.
Room:  This is the channel within Slack you desire to post alerts to. The default channel within Slack which gets configured when setting up a WebHook URL will be overridden by the room/channel you set in this field.
Alias: The reference name you desire to assign to your Pushover profile. It can assist you with organizing multiple provider profiles within your Uptime account.
*Once you've configured your Slack profile, you will need to assign the profile to a contact group located under Notifications>Contacts. The profile is assigned to the Push Notifications field within the contact group.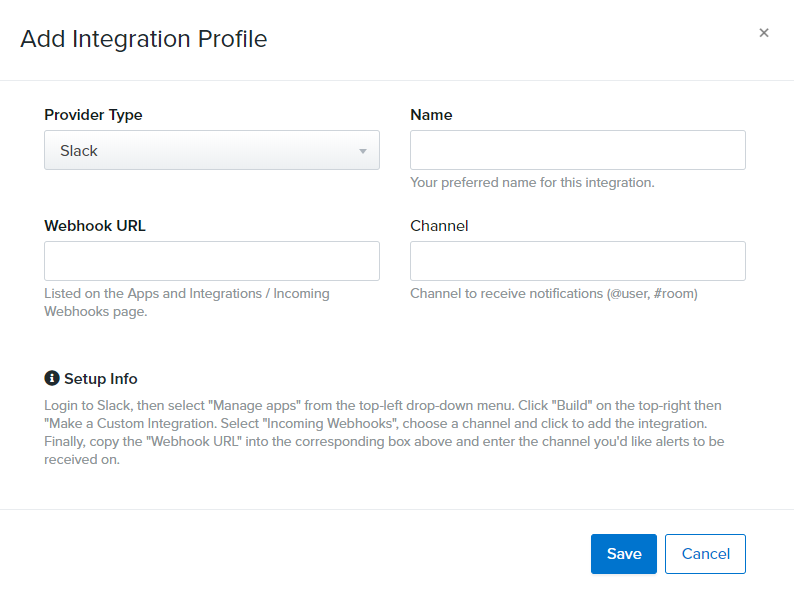 Setup for Slack
Login to Slack and navigate to Manage Apps, located in the top-left drop-down menu. Click on Build, located on the top-right hand side, followed by Make a Custom Integration. Select Incoming Webhooks, then choose a channel to add to your integration. Copy the Webhook URL into the corresponding box within Uptime.com, as pictured above.