This document covers installation and usage of the Uptime.com Transaction check recorder. The Uptime.com Transaction Check Recorder requires the latest version of Google Chrome, and a browser extension that can be acquired from the Chrome Web Store.
Our recommended approach to the recorder is to utilize the automated recording process combined with some manual usage of validator steps.
This document will cover in detail how to use this recorder in this recommended manner.
To skip to a specific section of the "Using the Uptime.com Transaction Recorder" video, click the links below with the
!
Requirements
Users must have an Uptime.com subscription, whether paid or in free trial status.
The Uptime.com Transaction Check Recorder viewport may have difficulty rendering a site if its internal logic blocks the ability to be viewed in iFrame.
Using the Transaction Recorder
Skip to 0:28
To create a new Transaction check, click Monitoring>Transaction followed by Add New. You will need to create a Transaction check or edit an existing check to use the recorder.
Fill in a URL to use for step one, then click Edit in Recorder.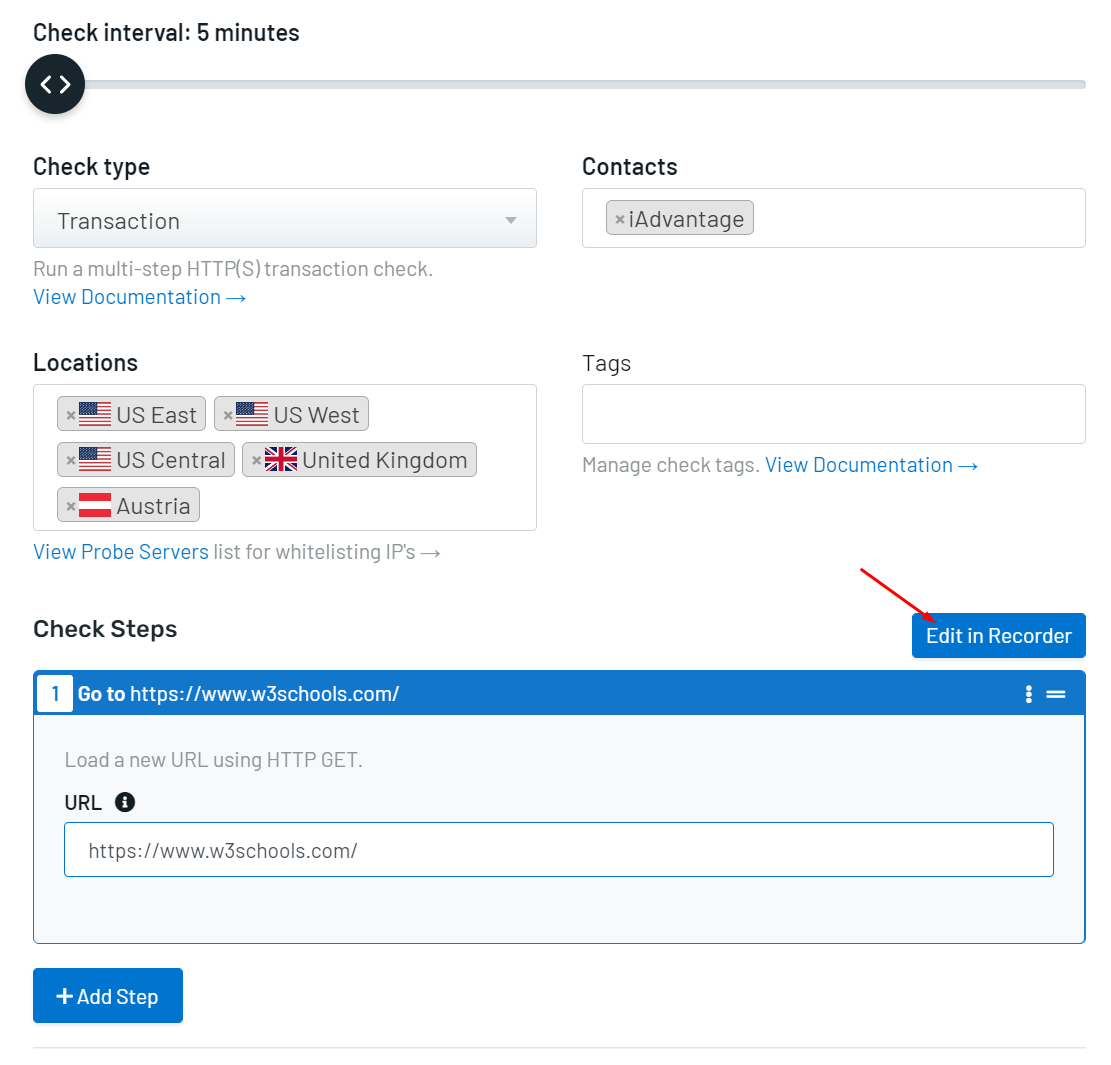 Use the following legend to identify each component of the Transaction Recorder: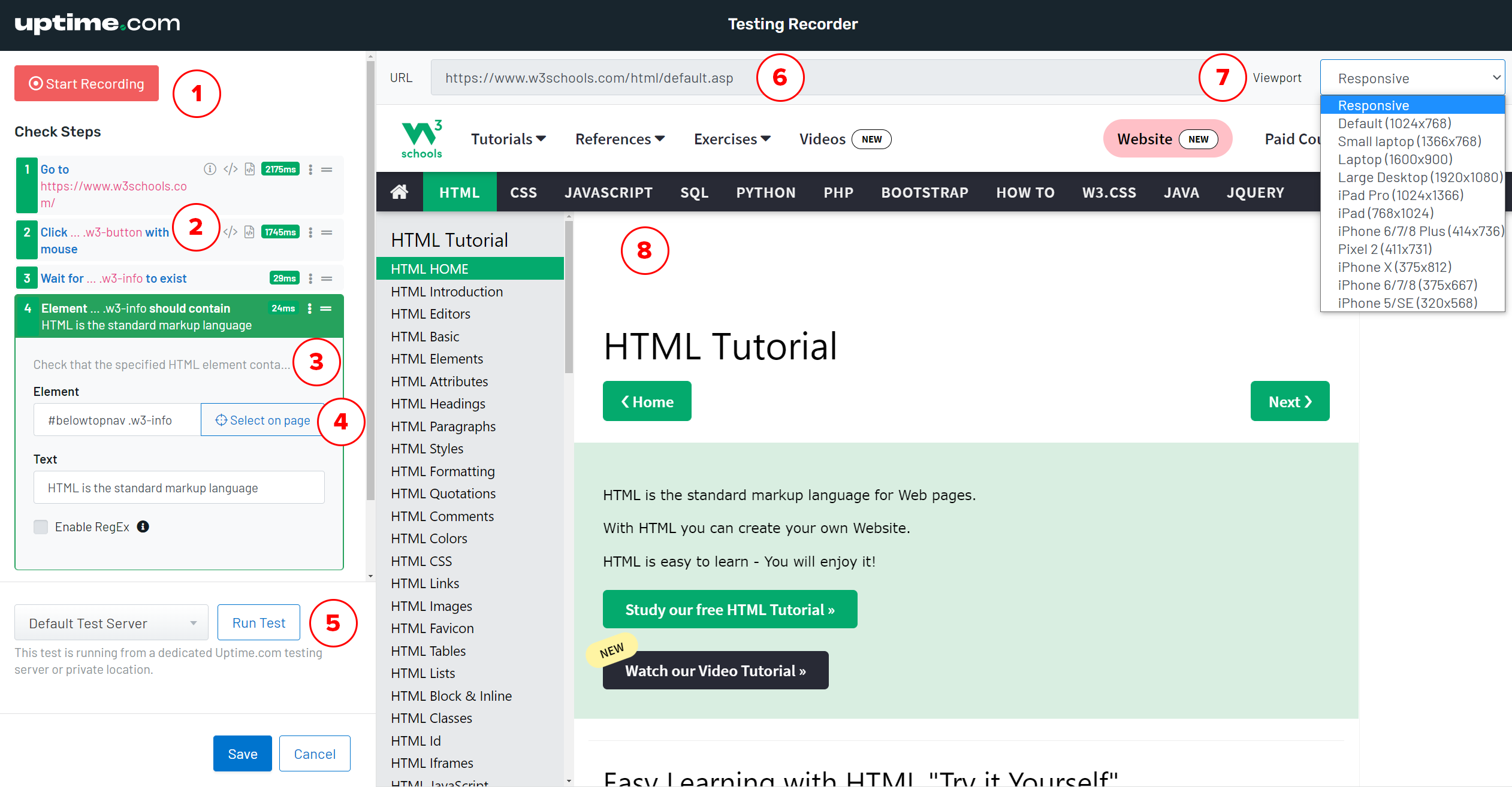 Recording button: use this to start and stop recording.
Check Steps editor: You can manually edit check steps, add new steps, and rearrange existing steps.
Step editor: select a step and then use these fields to edit step properties/fields
Select on Page button: use this button to enter Element Select Mode
Run Test button: use this to begin a test from the Uptime.com test probe server that will check your steps.
URL bar: this space will depict the current URL visible in the recorder's viewport window.

Viewport settings: use this dropdown to adjust recorder's viewport size, or to select a resolution to match a specific device.
Viewport window: elements you interact with in this space become steps in your recorded check while in record mode
It is important to note that Transaction steps are recorded in your local session, and tests are conducted from Uptime.com probe servers. Browser versions can differ as a result; here are a few examples for awareness:
The check server always uses guest mode

When the viewport's

Responsive

resolution is selected, the check resolution is set to

Default

in

Authentication and Settings.
Basic Workflow
Skip to 2:08
Click Start Recording to record your actions. The Transaction Recorder can record the following actions:
Click

(Default is left-click)

Check/Uncheck boxes
Wait for

(This step automatically precedes any step in which navigation occurs

in order to

wait for the element you interacted with to render)

Fill in

(This step records text entered into a text field, and automatically obscures password text if a password field is detected)
A simple transaction check most users can utilize on their own site would be: go to URL, click login, enter a username and password, and then click the submit/login button. The recorder is able to record all steps in this process with no need for manual action.
It is possible, and recommended, to add manual actions or make edits for more complex transactions. Although while in record mode you may delete and re-select an item if incorrectly selected without stopping the recording. In addition while in record mode you may add validations by selecting them in "add step" which will allow you to "select on page" automatically.
To add a new step, click + Add New Step, and select the command or validator you wish to add. It is also possible to drag steps and re-order them.
If you need to change the parameters for a step, click the step in question to open a menu in your left-hand sidebar containing fields and options you can alter. See our support document on commands and validators for additional information.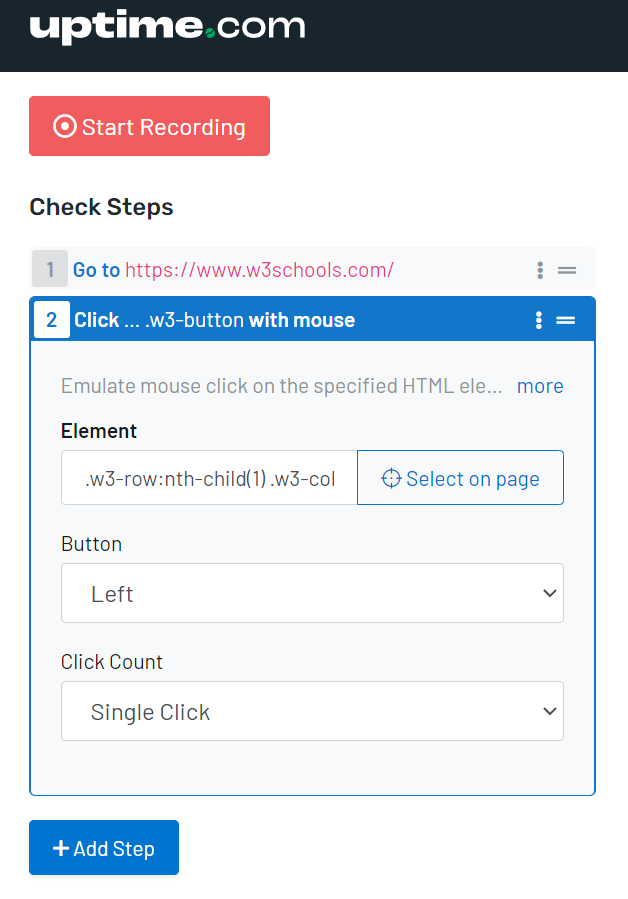 Please note: a Transaction check uses the Uptime.com user-agent, Mozilla/5.0 (compatible; Uptime/1.0; http://uptime.com), to allow for easy distinction between Uptime.com probe traffic and real users.
Go To URL
Go To URL is usually the first step in a Transaction check using the recorder. You can add an additional Go To URL step, or the change the URL on your existing step, but you must click the Go To URL button to view the URL if you intend on interacting with it.
Authentication and Settings
If you need to add basic authentication settings, add HTTP headers, change resolution, or specify the device type as mobile, add an Authentication & Settings step. This step always replaces any existing first step.
Selecting Elements
If you need to select a specific element, you can select the value manually in an existing step or when you add a new step.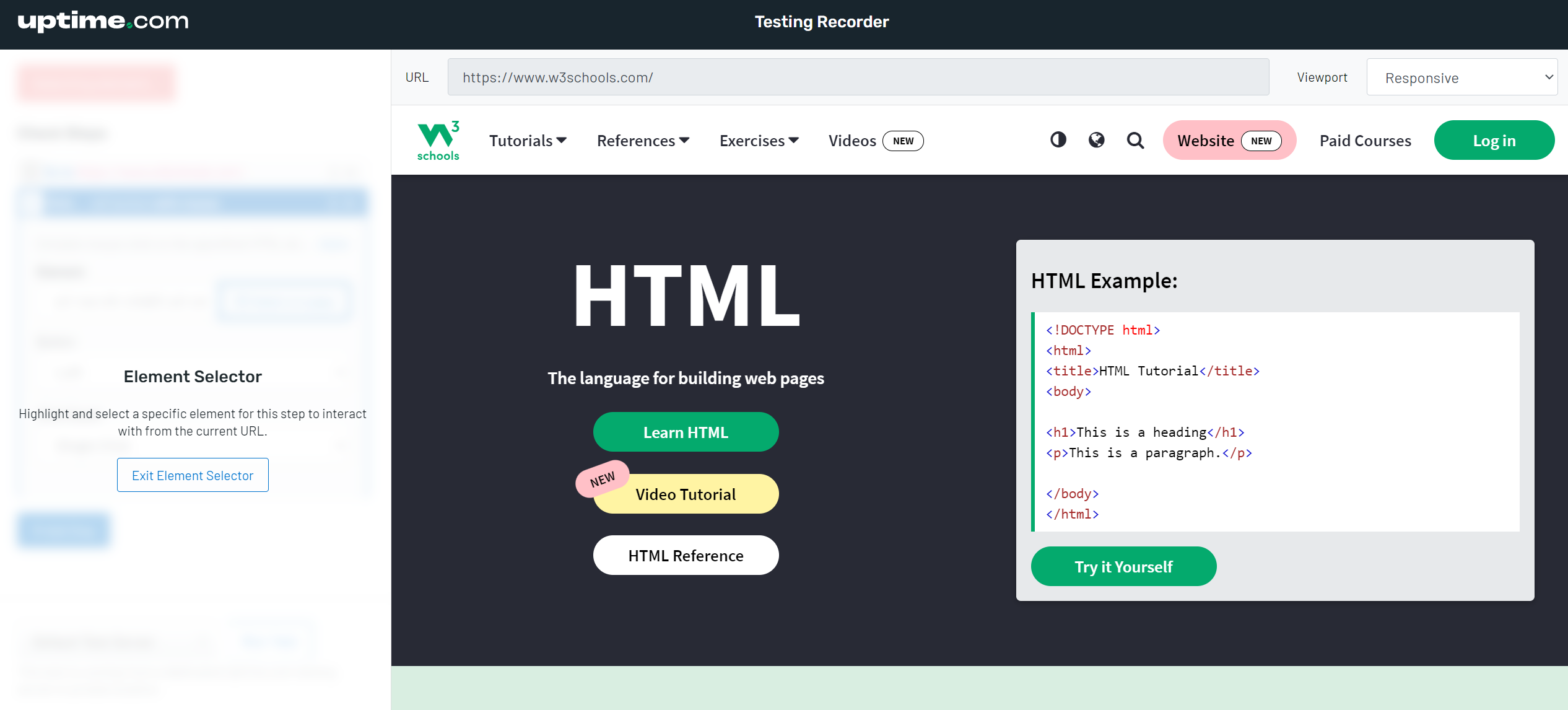 Click the step and then click Select on Page to enter Select Mode. You can highlight the element and left-click in Select Mode, or click Exit Select Mode to cancel your action. The Transaction check recorder will record the value of the selector you choose.
Completing Check Setup
Skip to 3:47
Run Test will verify that the Uptime.com Transaction check is accurately following the steps you have configured. Once you have successfully completed a test, click the Save button and your check will begin monitoring.
Note: If your first step is failing, be sure that Go to URL is visiting the "HTTPS" version of your URL. If the step continues to fail, you may need to whitelist Uptime.com servers (specifically the Transaction Check Test server, and all locations that are monitoring your check).
Want to see our checks in action? Check out our
YouTube Library for more!