Reports are accessible at all times from either your Dashboard, or from each check. An Uptime Report is a measure of downtime and associated incidents for a given period of time. They are an internal report, and function similarly to a Private Status Page.
The Uptime Report differs from Alerts, which focus more on downtime causes, or the Audit Log, which shows major changes to a check or your account.
Uptime Report Elements
The Uptime Report has four major areas to be aware of:
We'll look at each area in detail below.
Selecting Dates for Reporting
By default, the Uptime Report screen displays incident and performance data for the past 24 hours. Users can click the Date field to fill in specific dates, or use one of the presets on the right-hand side.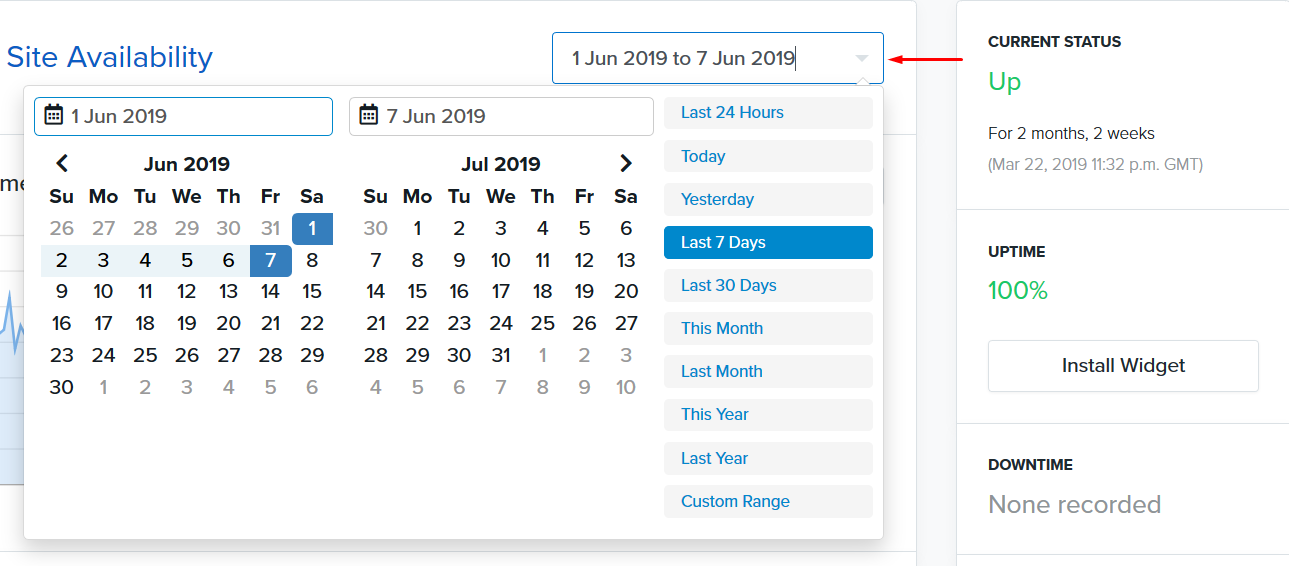 Uptime Reports provide detailed downtime and alert data and allow you to review past historic data for a period of time you've selected. Use this report to compare outages for a given period of time, track improvements, or to view uptime for the month or year.
Performance Graphs
Response time metrics are calculated based on your check configuration:
HTTP Check

without

a

String to Expect:

time to receive 200 OK

HTTP Check with

String to Expect:

Time to fully load the HTML only (no css, javascript, images, etc. which we don't load at all)

Transaction Check: Time to fully load the page, all images, and run initial javascript, etc. Response time is a measure of all steps.

API Check: Time to run through all steps within the API check. Steps may include resolving status, making a request or receiving a response.
Response time is heavily dependent on location. For example, a probe server in Australia will typically see a higher response time connecting to a server based in New York than a probe based in the US.
There are two performance graphs within Uptime Reports. The first visualizes response time as a line graph, which measures average response across all locations (you may also filter by location).
The second is the Alert Log, a color-coded bar to visualize up and down time. If your bar is grayed out, or not filled in, Uptime.com does not have data for this period.
Important data retention limits to keep aware of include:
Metric data is retained in 15-minute intervals after 30 days

Hourly data is retained for a maximum of 90 days depending on your account plan

Daily aggregated data is retained for a maximum of two years depending on your account plan

Color-Coded Graphs
Uptime.com uses three color-coded graph types, found on the Dashboard and Checks screen, to indicate the severity of performance issues:
Blue:

the check is below any thresholds that indicate a performance issue

Orange:

the check performance is above the

Blue

threshold, which may indicate a performance issue

Red:

Response time is considered high for this check type, and performance is above the

Orange

threshold. We recommend investigating

red color coded

graphs for performance issues.

A check, check card, or response time graph changes its color coding when the average of these graphs meet the following thresholds:
HTTP (checks under 3s)


> 1.2s  (Orange)




> 2.2s  (Red)



API


> 2s    (Orange)




> 4s    (Red)



TRANSACTION


> 20s   (Orange)




> 30s   (Red)



RUM (full page load)


> 5.5s (Orange)




> 9s   (Red)



RUM (first paint)


> 2.5s  (Orange)




> 3.5s  (Red)



RUM (server time)


> 1.2s  (Orange)




> 2.2s  (Red)
Alert Log
The Alert Log on the Uptime Report contains information about the previous changes in status to the probe servers associated with your check. Use this space to determine when the probe status shifted from OK to CRITICAL, the reason for downtime and the duration of the downtime with some technical details to help summarize the issue.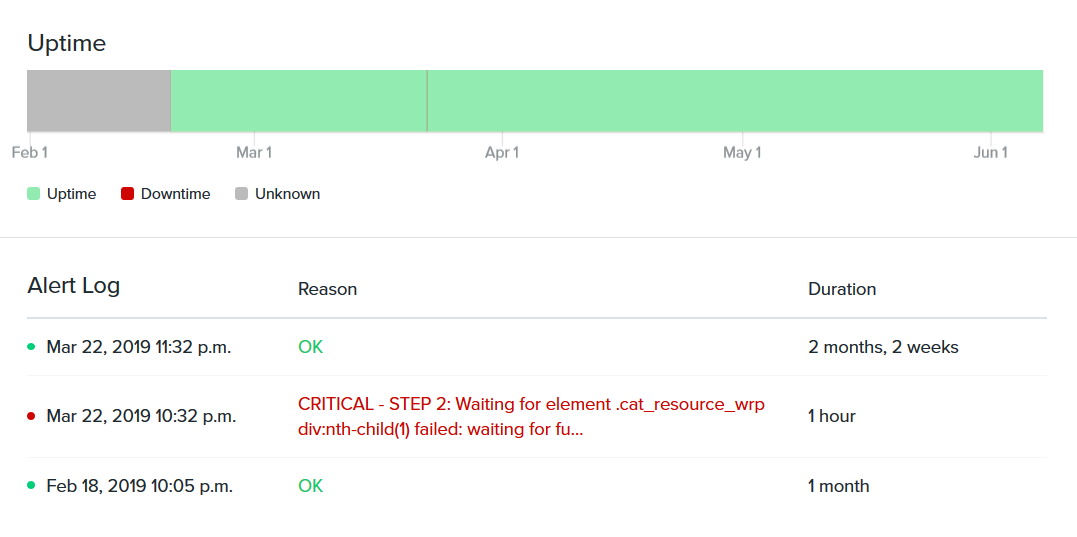 Please note that your account type determines how long alert data is retained. Please see the History Retention entry from your Plan Usage page to see the specified time for your account type.
Summary Sidebar
The sidebar on the right-hand side contains a summary of everything you will see in the Uptime Report. It's not as detailed, but it provides an at-a-glance summary of what your reporting shows, as well as a link to your real-time analysis for the check.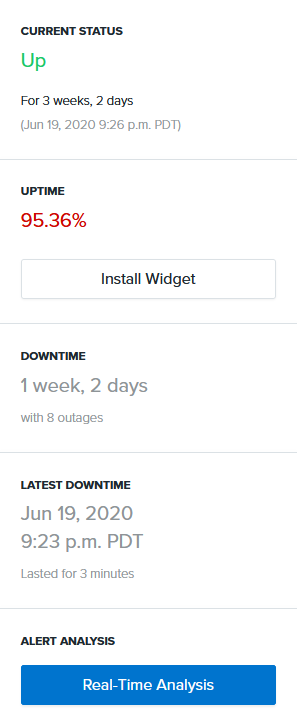 You can install the Uptime.com Widget on your website, or download a PDF or XLS file of your report for the period you've specified. Please note the XLS has two sheets, one for metrics and the other summarizing current status viewable from the right-hand panel in the Reports UI.
NTP and Other Kinds of Reporting
NTP Reporting is slightly different from other reporting, in that the graph does not measure performance it measures offset with the network time protocol server. Note in this NTP check example that response time is well below the NTP fail threshold of 1,000 milliseconds: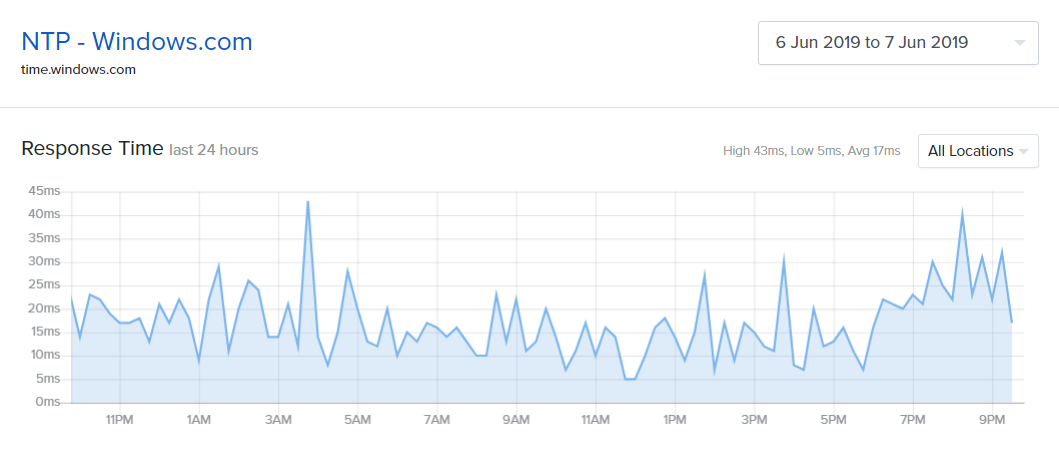 Information on RUM Reporting can be found here. The RUM report will provide you with real-time data regarding the average page load from sites where a Real User Monitoring check was created.
Information on Status Pages can be found here. Status Pages provide the ability to display your uptime checks in a private status page or on a public URL.
Downloading Reports
To download any check's report, click Monitoring>Checks, locate the check you wish to download a report of, then click Actions>Report. Click the blue Download button, and select between either XLS or PDF. Remember: set the date range accordingly (the default report screen displays activity for the previous 24 hours).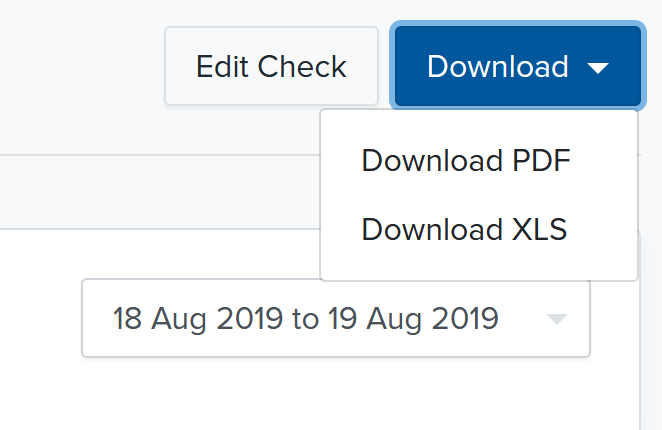 Emailing Reports
Administrators can select to send Uptime reports to a specific user on a Daily, Weekly, or Monthly basis. Click Settings>Users, locate the user in question and click Actions>Edit.
Daily reports reflect the previous 24 hours of monitoring
Weekly reports reflect the previous 7 days of monitoring and are sent on Mondays.
Monthly reports reflect the previous month of data and are sent on the first day of the next month.
Please note: Uptime.com Reports are not issued to users for accounts that exceed 100 checks.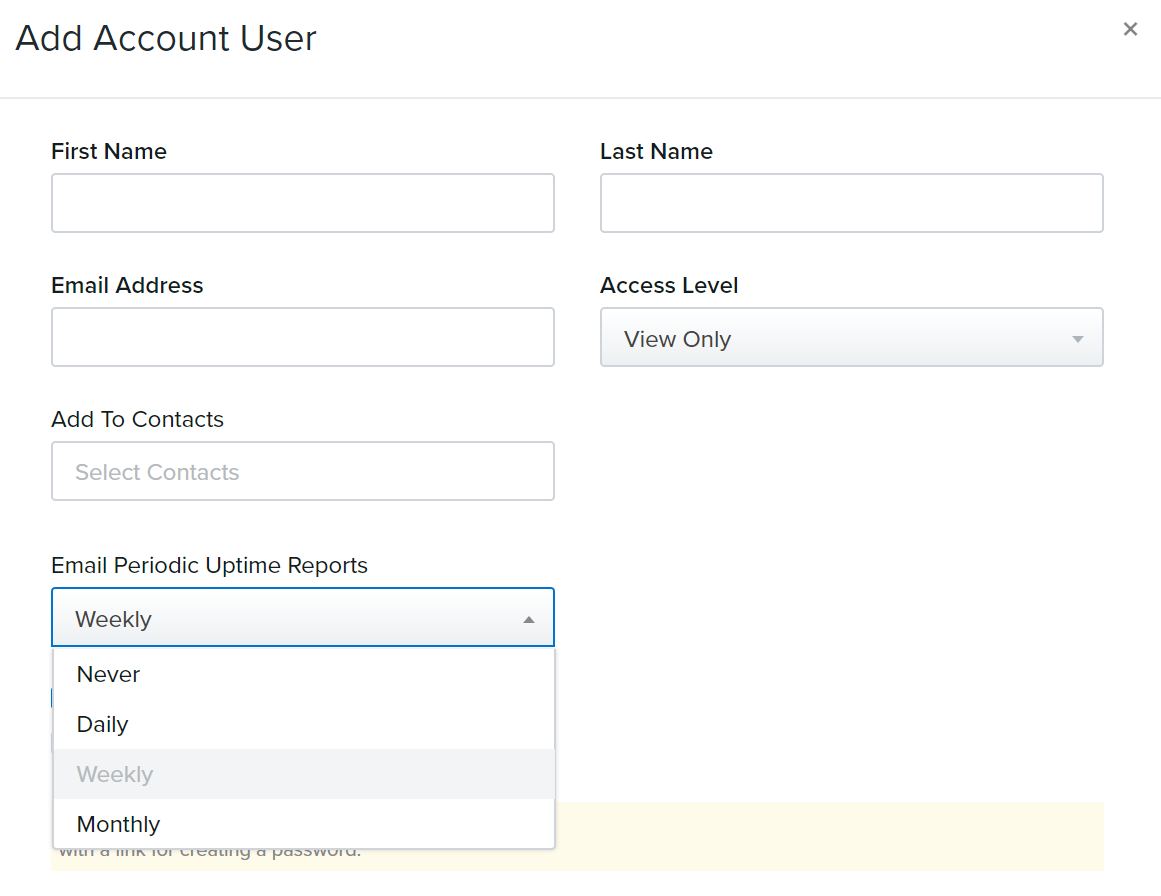 Email reports contain:
Average uptime, outages, and response time of all checks

A list of checks with downtime incidents

The checks with the longest response times in your account
Please note: Basic tier accounts are limited to a single user.