Overview
The Public SLA Page allows users to share historical uptime percentage for direct visibility into the state of your Uptime.com checks and services. Create a report, determine logic, and deliver critical performance metrics as needed.
The Public SLA pages replace Uptime.com's previous status pages, (all pre-existing status pages have been migrated to the new Public SLA page format). Public SLA pages provide these familiar features:
Display your Uptime.com checks at a public or private URL


Grant others access to reports without sharing your Uptime.com account access

Display Summary Metrics; global uptime, outages, and total downtime
View our documentation on Status Page setup here, or check out our sample Public SLA Page.
Public SLA Page vs. Public Status Page
The Public SLA page is a public or private summary report driven by your existing Uptime.com checks.
In contrast, the Public Status Page is driven by manually set component statuses and incidents that can represent checks, or elements outside of checks; databases, servers, etc.
Metrics, component history, incidents, and maintenance are optionally displayed on status pages of all types according to user configuration.
Public SLA Page Use Case
For this use case, we will assume the role of an agency monitoring multiple clients. These clients have some firm requirements, and a few "nice to haves":
A status page showing check uptime & response times that displays only one client's checks

This page must be publicly accessible, preferably discoverable via search engine,as the clients want to own the real estate in search

It would be nice to have Google Analytics tracking

The owner of these services would like incident updates delivered to her inbox as they occur

Subscribers to the public page would be nice to have
Now that we have a clear understanding of our requirements, we can set to work on construction of Public SLAs to meet these needs. The Public SLA page is a reporting tool direct between you and your viewers.

To suit this use case, we will need multiple Public SLA pages, one for each monitored client. For simplicity sake, we will say that we are tracking 10 services each for 5 clients. We will need 5 Public SLA pages to satisfy our requirements.
Once we have setup our Public SLA Page, we need to make some adjustments to customize the Public SLA Page as needed:
Click the >Global Settings

and ensure that

Make this page available publicly

and

Allow search indexing of status page

are ticked.

Under

Global Settings

, tick the box to

Allow subscribers to this page

.

Under >Customize Look & Feel add the Google Analytics Property/Measurement ID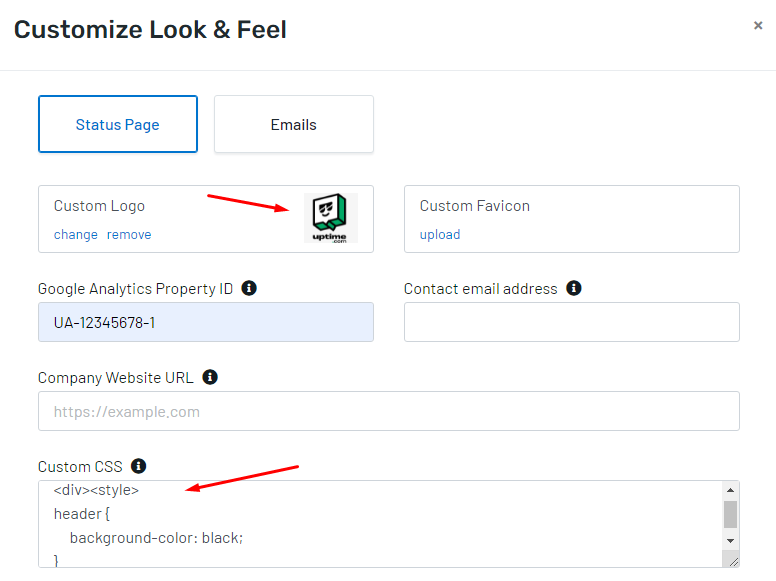 Our users can access the publicly accessible URL at any time. We can also coach them through a CNAME change, which would make their Public SLA Page available at the URL of their choosing.
Since we are not concerned with incident management in this use case, we have opted not to cover those fundamentals here. For more information on incident management, including an example of component status changes, see our use case from the Public Status Page article.
We Recommend Public SLA Pages for
Displaying targeted checks and metrics for user visibility to manage expectations

Facilitating a direct communication channel between your team and service users for informed conversations about your service performance

Exposing reliable third party SLA reporting to your customers
Learn how to customize and configure your Public SLA page here.
Want to see our checks in action? Check out our
YouTube Library for more!