Twitter is an online social networking service that enables users to send and read short 280-character messages called "tweets". The integration allows you to send alerts via tweet from an authorized account. We have worked together to make the integration seamless. To get started, you will first need to setup a Twitter account at https://www.twitter.com.
Integration Functionality
When an up or downtime event occurs on Uptime.com, an automated tweet is posted to Twitter via the authorized account.
Integration Setup
Once you have created your Twitter account, you will need to grant Uptime.com authorization to send messages to it. Create your account on Twitter, and finish basic setup, then return to Uptime.com.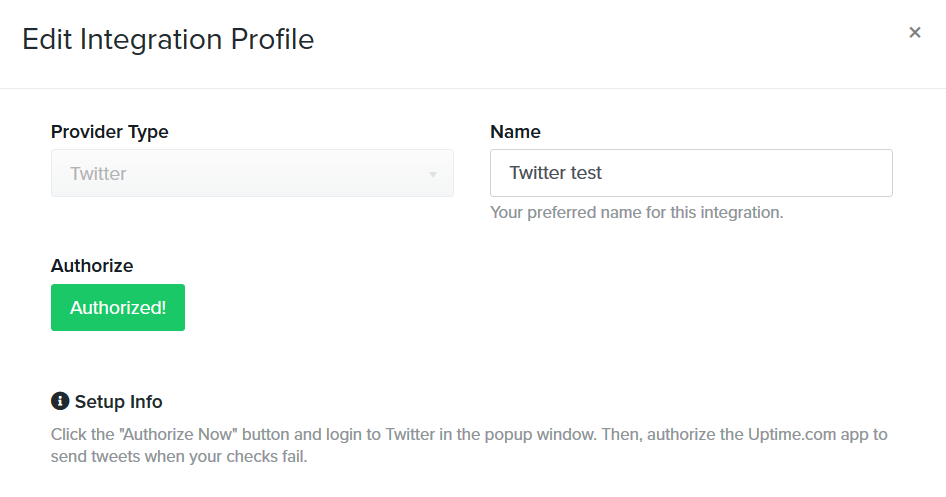 Click Notifications>Integrations then choose Twitter as the Provider Type. Name your Integration, then click Authorize. The next screen will inform you of the permissions Uptime.com will need to interact with your Twitter account. Click Authorize App. Twitter will return you to Uptime.com, and the configuration is complete.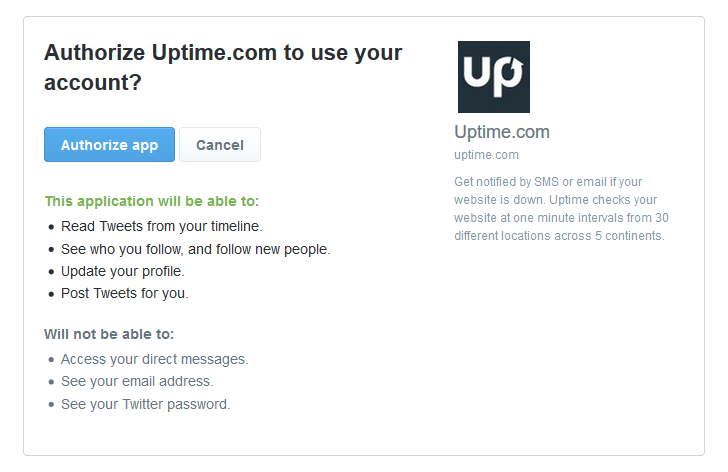 Once you've configured your Twitter integration, you will need to assign it to a contact and make sure that contact is notified when a Check fails.
First, click Notifications>Contacts>New Contact. Select Twitter from the Push Notifications field within the New Contact screen.
Finally, return to your Check's Edit screen and assign Twitter as one of the Contacts to be notified of a downtime event.
Test your integration with one of the following two options:
Force the Check assigned to your Integration to fail by altering it (HTTPS checks can use a misspelling of the domain, for example)
Click Notifications>Contacts, then click Actions>Test to send a test to the Contact