Klipfolio: is an online dashboard for building real-time business dashboards. The integration allows you to view response time metrics within Klipfolio, and we have worked together to make it seamless. To get started, you will first need to set up a Klipfolio account at https://www.klipfolio.com/.
Integration Functionality
Metrics from Uptime.com are delivered via a PULL request at user-defined intervals within Klipfolio.

Metrics are sent in fifteen-minute intervals.
Integration Setup
To complete the Klipfolio Integration, you must first login to your Klipfolio account and click your name and then My Profile. From the Profile screen, click Edit at the top and navigate to API Key. Click Generate New API Key, then copy the API Key.

For the Data Source Name, click again on your name and then click Data Sources. You should see the list of data sources that you have created. Copy the Data Source Name.

Return to Uptime.com.
In order to activate the integration of Klipfolio within your Uptime.com account, you will go to Notifications>Integrations, then click New Profile. Select Klipfolio as the Provider Type when adding a new push notifications profile.
Paste the API Key into the API Key field, and then type a Data Source Name. When you click Save, this new Data Source will appear in Klipfolio under Library>Data Sources. Data will be available in this data source, and you can Add a Klip to view graphs, meters, and other visualizations of the uptime data related to your check. See Klipfolio's documentation on Working With Klips for more information.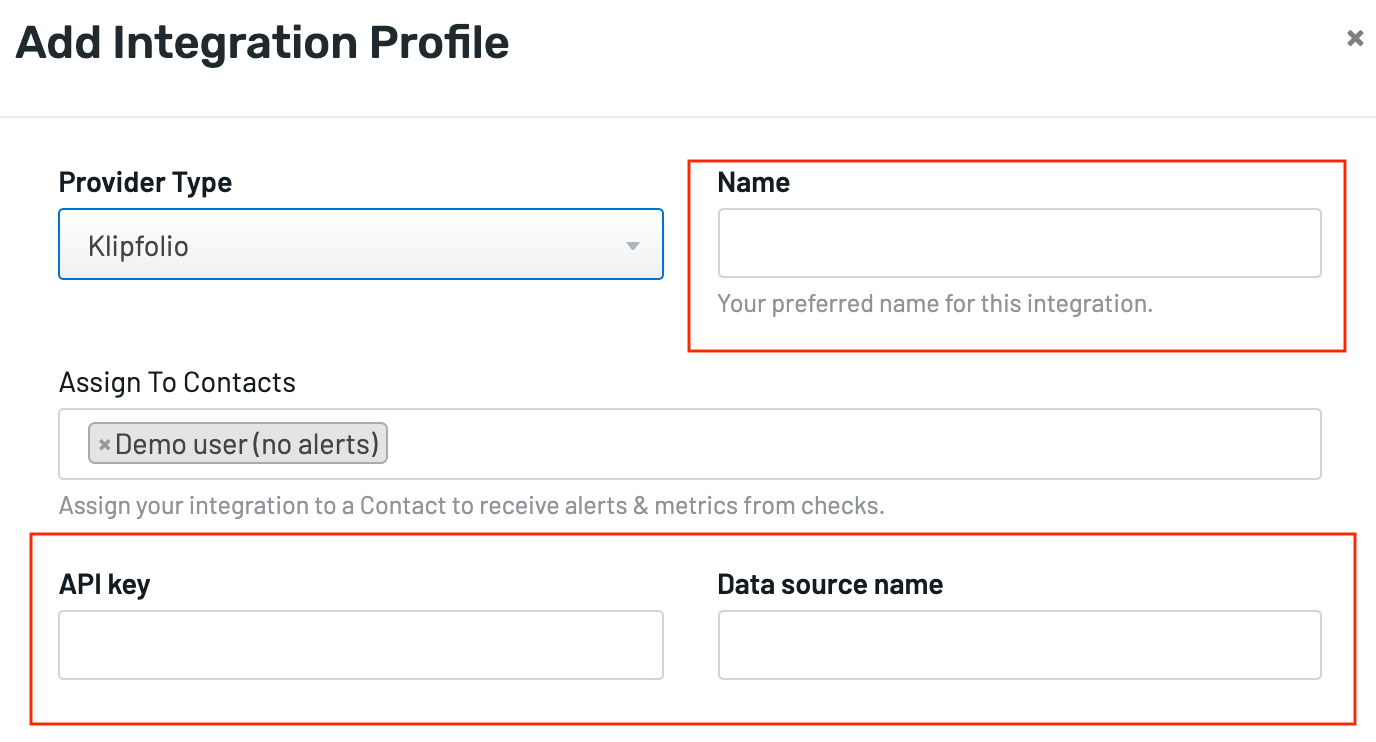 Once you've configured your Klipfolio integration, you will need to assign it to a contact and make sure that contact is notified when a Check fails.
Assign Integration to Contacts
To add your integration to an existing contact, click on or type the name of the contact into the Assign to Contacts field within the integration setup screen.
You can designate a new contact from within the integration setup. Simply enter the name of your new contact into the Assign to Contacts field, and select it as depicted below: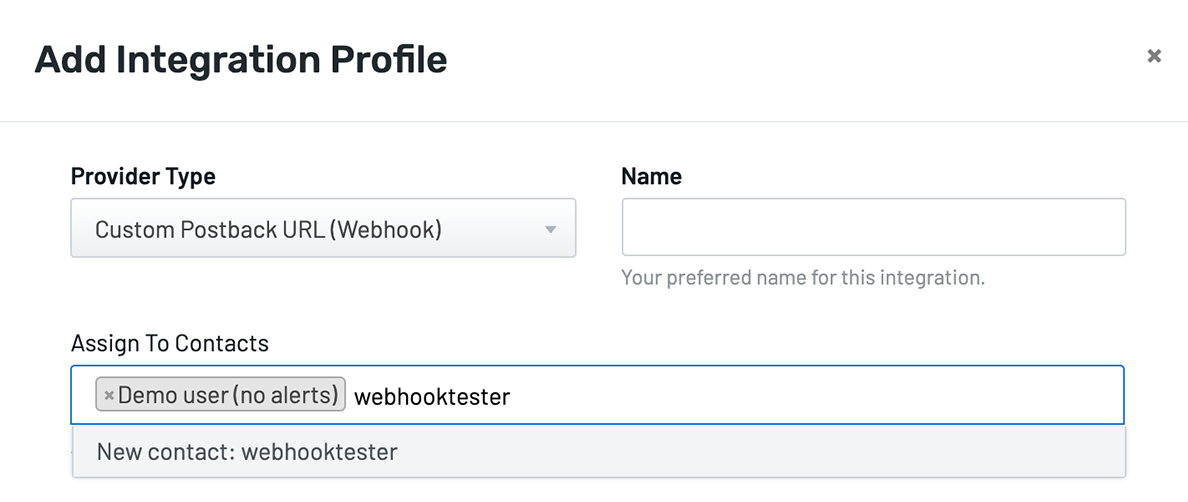 Uptime.com will create a new contact and assign the integration to it. You can find this contact when you click Notifications>Contact.
Assign Integration Contact to a Check
If you have created a new or dedicated contact for your integration, you will need to add it to specific checks. If you have assigned the integration to a contact that is already assigned to one (or more) checks, you may skip this step.
Return to your Check's Edit screen and assign this contact to the Contacts field to be notified of a downtime event. Metric data is initiated via PULL request and will appear at user-defined intervals. Metrics are sent in fifteen-minute intervals, and metric data may take up to 30 minutes to initially appear.
Please note: Response time data is stored based on account usage. Uptime.com stores hourly data for a maximum of 90 days, and daily check data for a period of up to 24 months.
Test Your Integration
Test your integration with one of the following two options:
Force the Check assigned to your Integration to fail by altering it (HTTPS checks can use a misspelling of the domain, for example)

Click

Notifications>Contacts

, then click

Actions>Test

to send a test to the Contact